Apparently, no one calls New Orleans "K-Ville." Creator Jonathan Lisco says the title of FOX's upcoming series (shown by the newly launched E! in Canada) was inspired by some graffiti scribbled post-hurricane, graffiti that appears in the pilot's opening sequence. Those glimpses into a city rebuilding after disaster signal how much the new New Orleans is a character in this new cop show.
That tidbit comes from an article Bill Carter of the New York Times wrote about the show's economic impact on a city that so desperately needs to rebuild an economy.
Is it a faithful portrayal? Of course not. It's a TV show. But its aftermath-of-Katrina backdrop gives the show's atmosphere a poignancy and depth that the scripts don't quite deserve yet. K-Ville's pilot includes flashback scenes from the hurricane, showing our central characters in the thick of it, and the present-day central case of what's ultimately a straight procedural springs squarely out of issues in post-Katrina New Orleans.
Now that I've been converted, I'm going to be one of those insufferable people comparing anything that smells like a cop show with a purpose to The Wire, which is nominally a cop show, too, also set in a city spilling over with untapped-on-TV vistas, also exploring a city and its people. But The Wire is a searing look at the guts of a city and, by proxy, the issues of a country. K-Ville is not that, not yet, though it seems to be striving for something similar, giving it the potential to be something more than a conventional cop show in an unconventional setting.
Still, HBO's The Wire, soaked in hopelessness and despair, barely making a dent in the television viewing landscape, is hardly the model to emulate to attract large numbers of viewers. The network-broadcast K-Ville is wisely going with an air of optimism.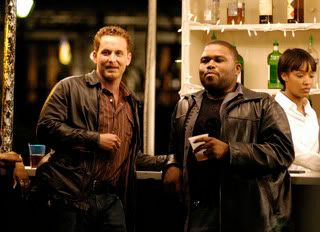 Marlin Boulet (Anthony Anderson) is the show's moral centre – with some immoral tendencies, like beating up suspects who, oops, turn out to be innocent. He's a cop torn between loyalty to his family, a wife and daughter who fled to Atlanta and are reluctant to return to the Upper 9th ward, and to the city he loves and has vowed to serve and protect. As he says when neighbours put up For Sale signs and his wife implores him to leave New Orleans with her, it can't be rebuilt if no one will fight for it. Boulet even provides the show its stab at symbolism, defending the few cypress tress left after the salt from the storm destroyed the once-ubiquitous trees. He makes me hope K-Ville will be about the struggle to reclaim a city from crime and despair and disaster, instead of just another excuse for a cop show.