The premiere episode of CBC's Intelligence opens with Jimmy Reardon (Ian Tracey) piloting his float plane above the British Columbia coast, surveying the spectacular landscape below. It's peaceful and idyllic ... on the surface.
But in Intelligence, a little more information usually reveals that things aren't quite what they seem. When Reardon touches down, it's to collect drug money from his producers, who are feeling pressure from the biker gangs infiltrating the area.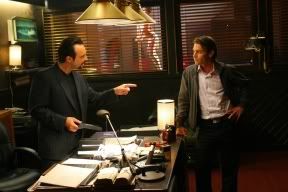 His contact on the ground, Colin, tells Reardon he needs to quit the drug life to spend time with his family, now that his wife is dying of cancer. Jimmy's a savvy businessman, ensuring there's a succession plan, but also shows genuine empathy. Still, as he tells his right hand man Ronnie (John Cassini), he suspects it's the biker gangs more than the cancer-stricken wife who pressured Colin to step down.
It feels wrong to like Reardon, and yet impossible not to. He's such a decent, endearing guy. You know, for a drug kingpin who has people whacked. He and Ronnie discuss their plan to get Bill, a grower who turned snitch on Jimmy, out of the country as part of Reardon's own special witness protection program. Then, oh so casually: "In a couple of months, we'll deal with it." "Kill them both?" "Yeah."
But then he goes and shows that his little daughter, Stella, is his priority, answering her phone call in the middle of a business discussion. When strung-out mom intercepts the call, we get a peek at the kid's home life — how sad is it that her stable parent is the drug dealer?
Mary Spalding (Klea Scott) is the head of Vancouver's Organized Crime Unit, and the handler of newly recruited informant Reardon. Her subordinate Ted, barely hiding his insubordination despite repeating "we're all on board," lets her know their witness Bill has disappeared, and he suspects Jimmy. Mary frets that if Jimmy has Bill killed, it could jeopardize her big opportunity to impress her bosses with the coup of landing Reardon, and therefore her promotion to CSIS, the Canadian Security and Intelligence Service.
"It would be a major disaster for me," she says to the man who would like nothing better than to see a major disaster befall her.
"A little rough on Bill, too," Ted points out.
Mary is our clearest hero, the one on the right side of the law, the one not designated "the nasty bastard" in the ads, as Ted is. But everyone in the intelligence game, spy or criminal, is in it for themselves. Intelligence makes it hard not to feel guilty for rooting for anyone, since our leads, Reardon and Spalding, are unlikable nearly as often as they are likable.