My review on the premiere of this new "celebrity-doing-something-with-a-professional-something-to-revive -a-flaggin-career" was posted on 1/22/06.
Although a bit tongue-in-cheek, I have enjoyed this show and like it better than its counterpart, ABC's Dancing With the Stars, in some respects. Both shows show a "celebrity" moving fluidly around a surface of some sort with another, more professional partner. The Fox show features celebrities on ice, ABC has celebrities on the ballroom floor. Both involve pretty outfits, competition, handsome hosts and judges.
Skating With Celebrities does not have audience call-in though I originally thought that was the case. After this second show in the series, with one out of six contestants now eliminated, I understand the scoring system is a running balance of judge's points for artistic impression and technical merit. Each week the team with the lowest balance in points added from all routines to date will be eliminated.
On to my critique, such as it is.
Each week a new ice-skating move is required. In addition, each week the music will be of a specific genre. For the premiere show, the novice ice-skaters had to do three spins. In this second show in the series, the celebrities had to perform synchronized footwork for at least 1/2 the rink. The music for this second show was from the 70's. If you think "disco" you would be right.
First up were celebrity Kristy Swanson and her partner. Swanson had the lowest score of the premiere week although all the scores were very close. I thought Swanson's performance was much better than her performance in the premiere show and indeed the judges awarded the team a 25.2 for technical and a 25.5 for artistry. Bringing that team's total to a 98.2 for the first two shows.
Next was Bruce Jenner, a former Olympic champion, a brave 55 years old and claiming bad knees. I rather like this fellow although I doubt he will win. I like him because a)he's my age and b)I remember him from his famed Olympic days.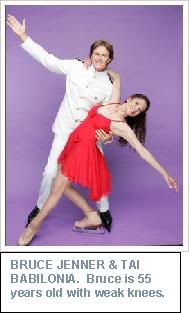 I thought Jenner and his partner's routine was very good, quite fluid. One judge commented snidely that Jenner was "not in the same shape as the 70's", an understatement. Jenner and his partner scored a 49.0 total for this night's routine, bringing their score to a 97.8 cumulative for both nights.