Will the Female Vote Pull Drew Through?
The audience demographics are not in yet, but we'll go out on a limb here. The two contenders to win ABC's Dancing With the Stars are Stacey Keibler or Drew Lachey. By me, Stacey has worked very hard and is, all things taken into account, the best in this competition. Which is not to say that Drew Lachey didn't also expend much effort and it's also not to say that this man doesn't have a certain masculine fluidity that is admirable.
I'm betting, however, that this series is watched mostly by women. Now I could be wrong here and hesitate to insert my own anecdotal evidence, which includes a survey of the one male in the household - sensitive but very much a guy type in the most dopey meaning of the phrase, insert wink here - mine own husband. Who wouldn't tune into dancing with anybody, much less stars he's never heard of. But I have a son-in-law who is quite the dancer but again, he's not going to tune in for this show because, well, because he told me. Which is why I suspect Drew might pull off the win due to the women who watch him.
Indeed this past Thursday, February 16, Drew and Stacey tied again as they had the week prior. On this evening and at this stage in the competition, the dance teams had to perform two dances.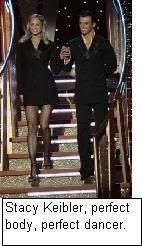 Stacey and her partner performed a quick step and a cha-cha for their two dances. For both dances Stacey and her partner performed, to my untrained eyes, perfectly. Their footwork was always in time and for the cha-cha Stacey performed some head swinging that gave me a headache.
The judges were not overly impressed. For the quick step, the judges admonished Stacey that she should take more risks. For the cha-cha, one judge announced that Stacey's arms were "too stiff". Stacey and her partner's total for the evening was 55 points out of a possible 60.