The "Stars" finished round 2 on 1/12/06. This ten-week contest premiered on Thursday, 1/5/06, with ten stars and their dancing partners/trainers.
As I reported on my first review, the first couple eliminated were Kenny Mayne and his partner.
This week, to my complete surprise, Tatum O'Neal and her partner were eliminated. The surprise was because I was suspicious that Tatum would continue on through the contest as she is one of the bigger named "stars" of the competition. In my first review I lamented that Tatum received a way higher score than I thought she was entitled. During round 2, Tatum was given a score of 17/30 compared to her prior score of 23/30. My dancing-impaired self thought she didn't do such a good job last round but this week the judges didn't think she did such a good job either.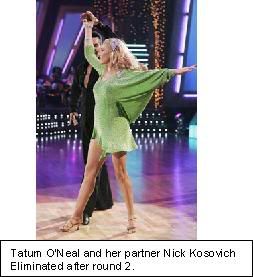 There was evidently some discord between Tatum and her partner. In one segment she stated that the arguments between the partners tended to make her perform and work even harder. Later, when the judges awarded the very low scores and noted her "legs were not in sync with your body", Tatum then declared that the fighting between her and her partner likely caused the low score.
Evidently the audience didn't like Tatum's performance as the judging is split 50-50 between the judges and audience call-in votes.
Now on to the remaining eight and my comments forthwith:
George Hamilton-Evidently the perennially youthful Hamilton has some sort of bum knee as he mentions it frequently. Hamilton and his partner's performance was clever in that the song "Putting on My Top Hat" was accompanied by George in top hat and tails.
Hamilton and his partner did a handsome quick step no mind George's knee. There was a lot of somewhat confusing choreography in the routine including some cha-cha and amusing tap dancing. In fact the judges commented that their routine could have included more quick step.