Since the pilot has been retooled, any misgivings I have now are tempered by the faith that it's likely to have gotten better since the work in progress I saw.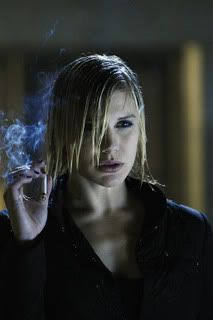 The most significant misgiving I have, however, is one I'm not sure will change quickly enough. Katee Sackhoff's Sarah, an out of control bionic woman who is both Jaime Sommers' nemesis and the only other person who knows what she's going through, has a more fascinating backstory and is a more compelling character than our heroine. That's not good news for Michelle Ryan or the show as a whole, especially since Sarah will be only an occasional presence.
Jaime's got enough emotional baggage to deal with to fuel about six characters, but that doesn't strike me as an embarrassment of riches. Instead, it feels like too much weight for one episode to bear, and the human element is dismissed. The bionics her lover imposes on her, for example, make losing a baby an afterthought.
However, assuming the audience sticks with it, the series should have enough meat to chew on for a long, rich run. But unless it ends up being about something other than a sombre and pretentious Alias wanting to be more important than it is, I won't be there beyond its first few episodes.
But given the retooling of the pilot and the behind the scenes shuffles, I still have hope, and it will remain in my PVR for a few more episodes.
Bionic Woman premieres Wednesday, September 26 at 9 p.m. on NBC, and E! in Canada.