It's Elvis week on a male heavy American Idol final four. Will Katharine defy the odds and rise to the occasion? Will the ultimate underdog Elliott finally achieve the frontrunner status he deserves?
More Idol coverage and mp3s of Tuesday night's performances over at Breath of Fresh Ink.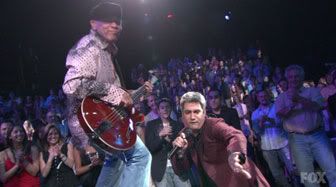 Taylor Hicks - "Jailhouse Rock" - I'm liking the suit tonight--very George Clooney. Taylor most definitely brought the energy tonight, and Tommy made a great choice sending the key up a half-step. This performance--though similar to last week's falling on the floor romp, actually showcased his vocals much better. And despite the fact that it wasn't something that completely blew me away, I can honestly say I was truly entertained. Not sure about the wavering of the knees like a heavily medicated ostrich, though.
Grade: B-
"In The Ghetto" - Tommy's advice to let this performance come from the heart was all the advice Taylor needed on this one. Anyone who says this man can't sing is clearly been hanging out in dark alleys with needles and Paula Abdul or an alcoholic--wait. Like Randy and Simon said--perfect song, perfect key, perfect everything. Great, great, great. One thing, though--What the hell was with the manic screaming of "soul patrol" and crazily waving arms around in the camera? Really not helping those drunk rumors, are you Taylor?
Grade: A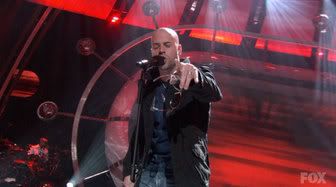 Chris Daughtry - "Suspicious Minds" - A tad forgettable, but good nonetheless. The sunglasses were a little cheesy, but the boxer-brief comment makes up for it all. When you've got the kind of frontrunner status that Chris has, you get a little worried - as you start thinking about season 3's Final Four shocker with La Toya London controversially getting eliminated. I'm hoping Chris doesn't rest on his laurels.
Grade: B-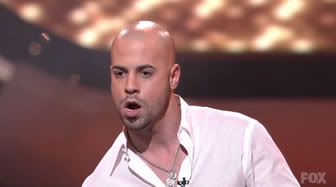 "A Little Less Conversation" - I will not even begin to try to explain why the first half of the performance so incredibly boring - I have no clue why he decided to sing it so damned low. But in the end, he finally kicked it into high gear and really made the song his.