8. In Treatment (Season 1): It started off as a TV experiment, airing a half-hour drama every night of the week, with each night assigned to certain characters (adapted from an Israeli show). But beyond that, it was an experiment in what can happen when you strip away all the excesses of standard dramas, and simply put two actors in a room and let them play off one another. The surprising thing was how something so simple could be so gripping. Without any of the traditional rising action of other TV dramas, we're left with the smallest gestures, be it a wavering voice, a fidgeting hand, or that which is left unsaid, resulting in some of the most in depth character studies ever seen on television.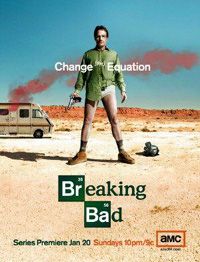 7. Breaking Bad (Season 1): When Bryan Cranston wound up winning the Best Actor Drama Emmy for his work in this series, I was shocked along with everyone else (with "everyone else" including the very small percentage of the world who give a shit, which I don't necessarily, but I was watching). Then I got a chance to catch the first season of Breaking Bad through an AMC marathon, and I was no longer shocked that he earned the honour, simply shocked that enough people saw it to vote for him. It's a phenomenal performance of a man slowly falling apart, in one of the more refreshingly original shows on TV.
6. Generation Kill (Mini-series): David Simon and Ed Burns wrap up the greatest show in the history of television to start the year, then give us one of the best mini-series in the history of the medium. That's a pretty good year (although, there really haven't been that many relevant mini-series in the past decade or so). For Generation Kill, Simon and Burns left the streets of Baltimore for the sands of Iraq, adapting Evan Wright's book of the same name to provide a stark account of the early days of Operation Iraqi Freedom. I'd say this seven-part series is a bit of a mix between The Wire and Band of Brothers, and since I consider those to be two of the best things ever to appear on TV, that equals pretty high praise for Generation Kill. It didn't reach the epic level of Band of Brothers, largely because the stories behind United States Marine Corps' 1st Reconnaissance Battalion didn't reflect the epic battles of the 101st Airborne Division in WWII. Instead, Kill was interested in the mix of immediate danger with large periods of inaction, and the ambiguity of the situations the Marines faced. The result was a weird mix of high tension and tedium, with a compelling look at the men on the front lines.