It's year end list season again, so it's about time I got into the game. Actually, most publications and websites have already finished their year end lists, but those are written by people who get early screenings of things and, you know, don't earn their money doing things other than writing blogs. So expect the movie list sometime at the end of January, and my album list between now and then.
I'll start with TV because it's the list that doesn't require any more time to take in the contents (because if I haven't seen a season of a show yet, it's too late to catch up). The rules for my year end TV list are a little different than most other year end lists, in that it doesn't just cover things that took place within the calendar year of 2008. Television doesn't operate on a January to December calendar (or at least network TV doesn't), and I think it's silly to try and judge a TV show from the back portion of one season and the front portion of another.
Instead, this list judges seasons that ended in 2008, including portions that began in 2007. If a season began in 2008, but is slated to return in 2009, then it is not under consideration for this list. Make sense? Acclaimed shows that I don't watch, and thus won't be appearing on this list include The Shield (I'm on season three), Battlestar Galactica, Chuck, Doctor Who, Pushing Daisies, and House. On to the list...
Honourable Mentions: Dexter (Season 3), The Colbert Report (Season 4), How I Met Your Mother (Season 3), It's Always Sunny in Philadelphia (Season 3), The Spectacular Spider-Man (Season 1)
10. Sons of Anarchy (Season 1): Creator Kurt Sutter moved on as a writer from The Shield to this to create FX's next great action-drama. When Sons of Anarchy began, it looked like a new spin on The Sopranos, with bikers replacing Gambinos. It was entertaining, if not terribly original. But as the season wore on, the show took the Shakespearean tradition of dramatic storytelling that's inherent in many American televised dramas and took it a step further, presenting Hamlet by way of the Sons of Anarchy Motorcycle Club Redwood Originals, with a healthy dose of Macbeth thrown in through the brilliant performance of Katey Segal.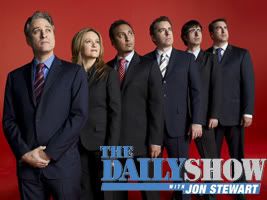 9. The Daily Show with Jon Stewart (Season 13): The biggest thing on TV all year was probably the historic election in the U.S., leading to some of the best TV coming from the political comedies like The Daily Show with Jon Stewart, The Colbert Report, and, surprisingly, Saturday Night Live. I chose TDS as my representative on this list as it felt just a little more vital and in tune to the issues than their cohorts over at The Colbert Report (who have to tailor the news a bit to fit the Colbert character). This year, the new class of correspondents (John Oliver, Aasif Mandvi, Wyatt Cenac, and Rob Riggle) polished their rough edges and made the show their own (joining veterans Samantha Bee and Jason Jones).