"Choosing agnosticism as a means of faith is akin to choosing immobility as a means of transportation."
So said narrator Piscine Molitor Patel in Yann Martel's engrossing novel Life of Pi. It's a crankily accurate sentiment worthy of Dr. Gregory House … except the self-professed atheist often comes across as more of an agnostic himself.
Religion has always been a thread running throughout House. In an interview a couple of years ago with the Canadian Jewish News, creator David Shore gave some insight into why, saying he found the absence of religion on TV artificial. "Even if someone's not religious, religion is a significant part of their life, especially at times of crisis."
Cuddy and Wilson are clearly Jewish, but their religion is a background fact, like that Wilson's full name, according to sharp-eyed viewers who have honed in on the diploma in his office, is James Evan Wilson. J.E.W. Hmm, I want to believe that was unintentional. If not, at least they refrained from calling Hugh Laurie's character Gregory Oliver Dwelling.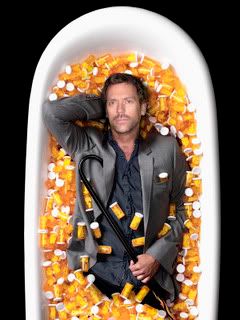 The doctor with the God complex positions himself as an atheist and dismisses faith as a way to fill the holes of our ignorance. While he can't believe in religion on faith, he does believe in his medical hunches on faith; his faith lies in himself, not in God. It's only fitting that he often wittily conflates the two ("This is exactly why I created nurses").
Despite Shore's contention, it's impossible to imagine House following a religion even in crisis, when following is anathema to him, never mind faith. But his peculiar relationship with religion took on new prominence in the first episodes of the fourth season, from his duels with Mormon fellowship candidate Cole (a.k.a. Big Love), to the patient who sees dead people, to House's quest to examine even his own atheism through a scientific lens.
"97 Seconds," brought to us by the writing team of Russel Friend and Garrett Lerner, had House attempting to prove the nonexistence of an afterlife. But why prove something he already firmly believes, with results he couldn't possibly prove to others and that he only shared with a dead man?
He'd already been clinically dead twice before, and neither time was a religious experience. In "Three Stories" and in "No Reason," the dead doc used his downtime to let his rational mind sort out a problem, and yet he felt the need to test his knife-wielding patient's claims this time. Is it possible House has doubts about his religious doubt? That the atheist equivalent of a Doubting Thomas is a Doubting Gregory?