Nothing but films today. I didn't even have time to eat until I got home.
I think that maybe at the end of this week I might be sick of coming out of one movie just to go into another, over and over, but right now I'm loving it. It's also amazing how fast a day can go by when you're in a theater the whole time. Man, I wish work days went by as fast as movie watching days, but sadly that is not the case.
Now on to the movies! One dramatic competition contender and two documentaries.
Big Fan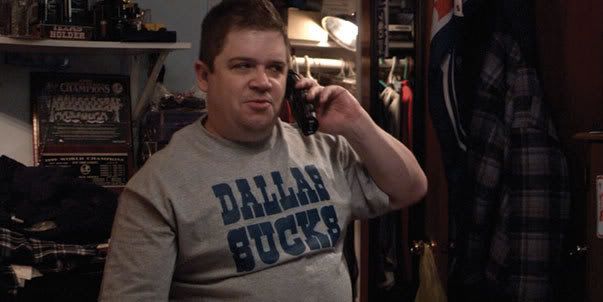 The first film I saw today was a screening of Big Fan starring Patton Oswalt and written/directed by Robert D. Siegel of The Wrestler fame.
You know that saying "There's always someone worse off than you?" Well, Paul Aufiero (Oswalt) is that guy. Paul works in a parking garage booth, lives with his nagging mother, and his only happiness in life depends solely on the success of the New York Giants football team.
Paul is the saddest and most pathetic character ever created for the big screen. He spends his nights writing personal scripts to use when he calls into the local sports talk show. Like two immature geeks on an online video game message board, Paul and a man named "Philadelphia Phil" exchange heated football discussions back and forth. His Sundays are spent, not actually in the stadium, but with his buddy in the parking lot of the Giants' stadium watching the game on a tiny TV hooked up to the car battery.
Paul tells everyone he's happy, but he presents himself like a person who just saw a group of innocent puppies get slaughtered. Oswalt is normally a very funny man, but here he is pathetic. That's not a slight against the film, because he is supposed to be pathetic, the warning is don't expect a comedy.
The film drags on at the pace at which Paul approaches his life. Virtually nothing happens in the first half of the film, except we learn Paul's brother is a sleaze bag attorney, his brother's wife has enormous fake boobs, and his family doesn't respect him.
The conflict comes when Paul and his buddy follow the star quarter back of the Giants team to a club, where Paul gets the living crap beat out of him after he discloses they'd been following the player. Now what does Paul do? Does he turn his favorite player in and risk the Giants losing? Does he sue the thug for all he's worth? Do we really care?