There are two different worlds at Sundance. On one end of Park City you have most of the theaters where people go to enjoy the films being shown. On the other end of Park City you have Main Street where all the celebrity sightings take place. It's sad how different these two places are.
This year at the festival some people have been passing out buttons that say "Focus on Film." This is because over the past years celebrities seem to have stolen the spotlight from the films. When celebrities who aren't starring in anything are getting more attention than the films, something is wrong. When more people are crowding around a corner because some B-list TV actor is coming out of a bar, rather than clamoring to get into a powerful, heartfelt documentary, it's sad.
Walking down Main Street I noticed that the celeb culture has turned the general public into mindless drones following each other around, trying to get a glimpse of someone famous. Their heads perk up like meerkats whenever there's a large group of people that seems to be surrounding someone.
On the brighter side though, this was my favorite film day so far.
Taking Chance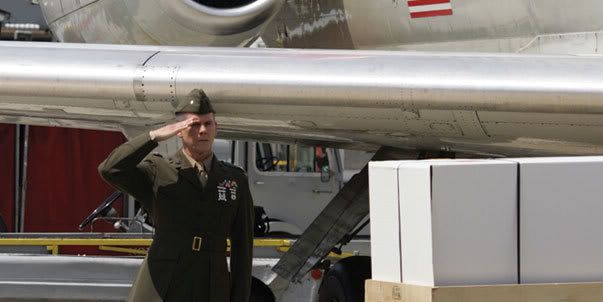 First up is already the front-runner for my festival favorite. It's called Taking Chance and stars Kevin Bacon as Lieutenant Colonel Michael Strobl. Based on the real journals of Lieutenant Colonel Michael Strobl, this film follows the transport of a fallen soldier, named Chance Phelps, back to his home to be buried. Strobl volunteers for the duty of transportation escort.
It turns out that this is an extremely serious duty and honor within the military. Strict guidelines are to be followed. The escort must witness each time the body is taken on and off any type of transport. The escort must also transfer the fallen soldier's personal items, with the utmost respect, to give them to the family.