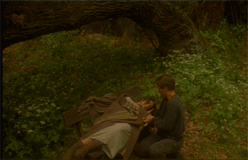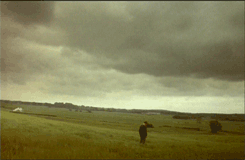 Mother and Son
***** - a masterpiece
Alexander Sokurov isn't referred to as "this generation's Tarkovsky" because he shares the same nationality as the late Russian master; the work of both may not be very thematically similar, but Sokurov's work is clearly a stylistic continuation where Tarkovsky left off. Sokurov's Russian Ark may have been the most exaggerated example of that - the single, uncut take (the longest in film history) is an elongated example of Tarkovsky's signature long, meditative takes. I suppose for Sokurov to truly be the "next Tarkovsky", he would have had to reject the the stylisms of his work - to follow the chain of Soviet masters that have ignored their predecessors. Tarkovsky's long takes are quite the opposite of the montage editing that partly made Eisenstein's The Battleship Potemkin the masterpiece that it is.
If Sokurov has rejected anything of Tarkovsky's, it's the length of his films. Many have complained that Tarkovsky's work is generally too long (which isn't a complaint I share) - yet Sokurov's Mother and Son clocks in at a brisk 73 minutes. The length compliments the film beautifully - a daydream of this type would have been pointless to stretch. Too few filmmakers opt for experimenting with length (or create hours and hours of footage), and it's a welcome change for Sokurov to go against the stereotypical length of what a feature should be, and go with one that best compliments the artistic vision.
Mother and Son has no definite plotline, only scenes of a very weak and very ill mother being cared for (and carried) by her devoted son. It is meditative in the most extreme ways - a cinematic whisper. Sokurov's dreamy tone is heightened by his visualization of it all - which remains separate from anything Tarkovsky has done - a stretched and painterly piece of work. Sometimes the stretching is muddy and awkward to the eye, but the film reveals images of true and stunning beauty throughout. To call Mother and Son an experiment in visuals, length and tone would be somewhat fitting - but it is a welcome one and is certainly strong enough to stand on its own.