I've wanted to start this Blogcritics series for a while, and here it is… finally. I hope you all enjoy reading it as much as I'll enjoy writing it.
Ever since I saw the Mystery Science Theater 3000 movie, I was hooked. I loved the hilarious commentaries offered up by Mike Nelson and friends to horrible B-movies. But, then I had a thought. What if Mike and the crew took on other movies? Popular ones that everyone has seen — that'd be really funny.
RiffTrax has been around for little while now, but it's still relatively new. RiffTrax features Mike Nelson, Bill Corbett, Kevin Murphy, and friends riffing on today's popular movies. They have over 70 movie commentaries in their archives now, and they're constantly coming out with more, which are easily synched up with your DVDs. Harry Potter, Pirates of the Caribbean, Road House, and Transformers are just a few of the movies that get the riffing treatment.
I can't wait to share with everyone the new RiffTrax that come out, and even introduce you to the oldies but goodies hidden in the archives.
I thought I'd start out by reviewing my favorite RiffTrax to date.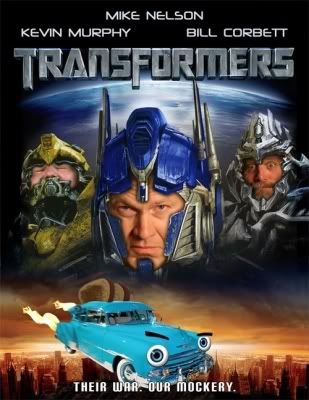 Movie: Transformers
Riffers: Mike Nelson, Bill Corbett, Kevin Murphy
I was completely bored and confused with Transformers when I saw it in the theater. It was full of Michael Bay nonsense, loud noises, ridiculous characters, and slow-motion explosions.
So, I was happy to see the RiffTrax guys get a hold of this one. Their first victim is Shia LaBeouf. They make relentless fun of his inane rambling and absurd stammering. I've never understood why Shia is so popular. He's annoying. Just Google "Shia LaBeouf no no no" and get a load of some of the YouTube videos.