She breaks just like a little girl. — "Just Like A Woman," Bob Dylan
Remembering Edie Sedgwick, Andy Warhol superstar, fashion icon, New York art and party scene socialite, is remembering the frenzy of the '60s and the golden flashbacks to those times, their enchantments and traps, a world populated by artists like Roy Lichtenstein and Jasper Johns, authors like Truman Capote and Gore Vidal, and a plethora of youthquakers, musicians, designers, aesthetes, and freaks.
Edith Minturn Sedgwick was born on 20 April, 1943 at the Cottage Hospital in Santa Barbara, California, and was named for Edith Minturn Stokes, her father's favourite aunt. She belonged to an aristocratic privileged family whose ancestors dated back to her great-great-great grandfather, William Ellery, a signatory of the United States Declaration of Independence and Judge Theodore Sedgwick (Speaker of the House of Representatives), whose wife Pamela Dwight was the first Sedgwick declared mentally insane. Francis Minturn, Edie's father, had been diagnosed as manic-depressive and deemed unfit to reproduce, but he cherished the project of a big family.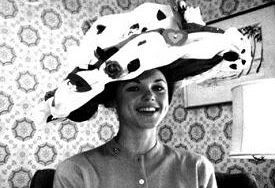 All the family called Francis "Fuzzy" or "Duke", and when they moved to the vast Laguna Ranch, in the Santa Inez Valley, he started to isolate his wife and kids with his severe discipline. Fuzzy was defined as "a cross between Mr. America and General Patton... a Marquis de Sade" by a one of the visitors to the Ranch in Edie: An American Biography (1982), by Jean Stein and George Plimpton. Re-edited in 1994 as Edie: An American Girl, this is the best book about Edie Sedgwick's life to date, an oral biography with detailed material from a multitude of interviewees and also the chronicle of the rise and fall of the '60s revolutionary days.Francis was the biggest influence on Edie's life along with pop art master Andy Warhol. He referred to Edie as his "little chorine". In Edie: Girl on Fire (2007), by David Weissman and Melissa Painter, which features a CD with the last recorded interview of Edie, tracking down interviews and old pictures, his friend from Harvard, Bartle Bull recalls: "She admired the fact he was his own man and nobody influenced him. But she also knew that there was a dangerous, decadent side to him. And, indeed, that attracted her to other people later in her life, the people who were witty but corrupt, artistic but corrupt."