5. Funny People
Release Date: July 31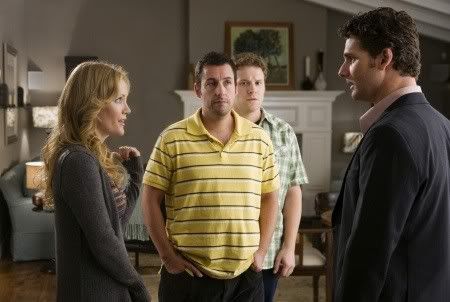 Judd Apatow can go around producing any old movie he wants, but the best ones also find him in the director's chair. Take, for example, his two previous directorial efforts, The 40-Year-Old Virgin and Knocked Up. Funny People looks similarly poised to deliver, and what's even better is that it'll be the first time in years that the name "Adam Sandler" can be said in the same sentence as the word "funny" without the descriptor "not." However, Apatow has also said that this is going to be a more dramatic film, with Sandler playing a lonely comedian diagnosed with a terminal illness who hires Seth Rogen as his opening act and friend. It sounds a little maudlin, sure, but I trust Apatow to give us something poignant, hilarious, and refreshingly original.
4. Harry Potter and the Half-Blood Prince
Release Date: July 17
Yes, in a perfect world, this would've arrived last November 21. But the people at Warner Bros. are mere Muggles, as we all are, so we mustn't be too hard on them. Now scheduled for release on July 17, this adaptation of the penultimate Potter book (though not the penultimate film, as The Deathly Hallows is planned to be split in two) promises to be even darker and more challenging for the boy wizard than the previous five. I've got to admit, this franchise kind of lost me after 2004's brilliant Prisoner of Azkaban; Goblet of Fire and Order of the Phoenix both felt rushed and workmanlike, like glorified highlight reels. Even though David Yates, who directed Order of the Phoenix, is returning for this one, the trailer is superb and I figure I owe ol' Harry at least one more shot.
3. Public Enemies
Release Date: July 1
Miami Vice aside, few filmmakers tell "cops and robbers" stories as engagingly as Michael Mann. So it's encouraging to hear that his next film stars Christian Bale as FBI Agent Melvin Purvis and Johnny Depp as famed gangster John Dillinger. Just imagining those two actors onscreen together is exciting enough, but imagining them in a complex true-life tale set during the Great Depression kind of makes me want to start spamming Academy members with "For Your Consideration" e-mails. I'll try to restrain myself, but it's going to be hard.