Director David Fincher himself saw sheriffs' cars tailing his school bus in the '70s. Three decades later, Fincher and his crew met with many of the people involved with the mysterious serial killer named Zodiac, including two surviving victims of an attack and the cops who investigated the cases. This is a talking movie, a new experience for a director who doesn't much care what people have to say. "If you want to see what someone is about, you look at what people do, what they say is how they want to be seen."
Fincher had previously used the Viper Filmstream camera to shoot a commercial for Hewlett-Packard, and Michael Mann used it to shoot part of Collateral, but Zodiac is the first Hollywood feature shot entirely on the Viper system. Fincher, helped by digital shooting by Harris Savides, knows how to play up contrasts with lighting and chromatisms, as in the key scenes at the lake, at Washington and Maple, or the vintage cars and police motorcycles outside Original Joe's in the Tenderloin at two in the morning.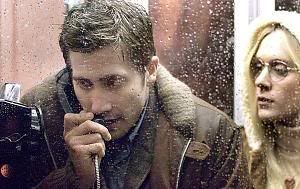 In contrast to the cops is Robert Graysmith (Jake Gyllenhaal), whose enthusiasm for the case grows unstopabble. "I need to know who he is," he tries to explain to everybody else. Paul Avery (Robert Downey Jr) is equally effective as the cocky, debauched reporter, jealous of the more cultivated Eagle Scout (blue Aqua Velva drinker) Graysmith. Leading the investigation are SFPD Inspectors Dave Toschi (Mark Ruffalo) and William Armstrong (Anthony Edwards), who attend the scenario of the first crime in the movie on the night of Armstrong's birthday. Immediately, the case becomes public due to the nationwide interest in these perverse cyphered messages inside the letters sent to the newsroom.
Also responsible for discovering Zodiac's identity are Cpt. Marty Lee (Dermont Mulroney) and a code-breaker named Sherwood Morrill (Phillip Baker Hall) who examines the handwriting. When famous attorney Melvin Belli (Brian Cox) is contacted by the killer, he tries to talk to him via television but nothing happens until Christmas when he receives another letter. The cartoonist becomes unofficially enrolled in the case as the official forces fail to delve deeper into the crimes that were committed in different jurisdictions. It seems to be a case without answers, as every time a lead comes, there is an expert to tell them to move on. James Vanderbilt's screenplay is a journey into obsession and disappointment in its most naked, grey, and educated way.