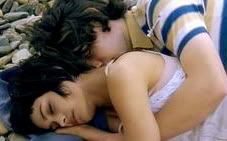 The most symbolic shot for me (and which the film's poster is based on), out of all of the symbolic imagery used by Dukic, like flying lit matches, withered flowers or black loopy holes, is when Zia and Mikal wake up surrounded by a sea of condoms and needles, a saturated reminder of an upcoming world inbred by our own societal depression and promiscuity.
Of course, lots of the suicides in the afterlife are now regretful of their actions and wish to escape the bureaucracy in "Offland", some of them using bizarre methods, as trying to separate body and soul which a famous cult leader self-proclaimed the Messiah (Arrested Development's Will Arnot) is preaching to his crowd of desperate followers. His soulmate happens to be Zia's ex-girlfriend Desiree, who lives with him in a fairy tale castle.
There are funny cameos with Eugene's mother (Mary Pat Gleason), Little Kostya (Chase Ellison), Brian (Jake Busey), and Erik (Abraham Benrubi from Parker Lewis series) and the tone is alternately dark and warm, with a bittersweet feeling. On the road, the characters come across as good-natured antiheroes who deserve a second chance, and the atmosphere of sincere dottiness avoids falling into the trap of excessive "trendy quirks" that plague some low-budget films. "Quirk is odd, but not too odd. That would take us all the way to weird, and there someone might get hurt," is Michael Hirschorn's opinion in his article "Quirked Around". If that is the case, Wristcutters: A Love Story is definitely located in a fictional Weirdland, where we are mostly shown a real, hurtful, personal aspect to this timeless story.