Some might think I'm too harsh on blockbuster genre films, that I shouldn't hold them to an artistic standard and instead enjoy the mindless fun they offer — that since these movies, be they shoot 'em up action films or silly animated family fare, aren't designed to be thought about, I should cut them some slack when it's obvious that little thought went into their design.
Unsurprisingly, I don't ascribe to this line of thinking, and the reason is simple. It's not that I can't enjoy exciting action movies, or sweet family fare, it's that I believe that neither need to sacrifice quality in order to achieve their objectives. And when we decide to accept the substandard simply because it touches upon some of the thrills of the genre, we do a disservice to those films that work to ensure that entertainment and quality can indeed coexist peacefully.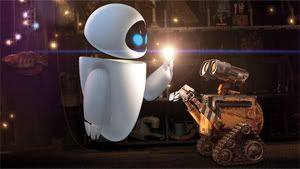 That the most ambitious and fully realized film of the year is an animated family feature is particularly impressive, since the one genre you'd think would have a built-in excuse for dumbing itself down is one aimed at children. But while their competitors continued to find new ways to make celebrity voice-filled, anthropomorphic animal cartoons, Pixar decided to make WALL-E, perhaps their most ambitious effort to date, and succeeded in making one of the finest films in both their history and the history of the genre.
WALL-E is a masterpiece from beginning to end, keeping me enraptured from the short that preceded it (the hilarious, Chuck Jones-inspired Presto, which technically doesn't factor into how good WALL-E is, but is a part of the total package one gets when going to see it) to the brilliant final credits sequence that tracks the progress on Earth with a brief overview of the history of art. The big hook with Pixar's latest film is their decision to make long stretches of the film largely dialogue-free. It's a decision indicative of a company unafraid to take risks, and pretty much the complete opposite of what their competitors are doing (not only do they refuse to market their films based on ill-suited celebrity voices, they decided to not even give the film's stars any dialogue for celebrities to voice).
Without the crutch of dialogue, director Andrew Stanton and his team of animators have to infuse their main character with personality through his actions and body language, borrowing from silent comedy masters like Buster Keaton, Charlie Chaplin, and Wile E. Coyote. The result is magical, with the eccentric WALL-E quickly becoming one of Pixar's most lovable creations, ranking right up there with the baby turtles from Finding Nemo or Boo from Monsters, Inc in terms of adorableness.