In one word Transamerica is hilarious. In two words Transamerica is hilarious and moving. It's interesting to see how the media takes certain movies and pigeonholes them, because if you have seen Transamerica and note the category that Felicity Huffman's performance was put in the for the Golden Globes by the HFPA, you know Transamerica is not a drama — at most, it's a dramedy — because this movie is too funny and lighthearted to be considered a straight drama. But of course, because it's about a pre-op transsexual it's gotta be one of those down and dirty gritty dramas, right? Wrong. But hey, at least it got Huffman a Golden Globe she otherwise wouldn't have won up against Reese Witherspoon in the Comedy and Musical category.
What Duncan Tucker does right in Transamerica is where many movies like this go wrong. It doesn't try to preach or be socially aware. It simply just is. And that is the best kind of social commentary in film.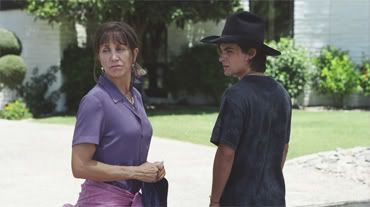 Transamerica is the story of a transgendered woman named Bree that has yet to have her operation. She is a middle-class conservative woman who is intelligent and intellectual, and seemingly her only friend is her therapist Margaret. Bree needs a doctor and Margaret to sign the consent form to allow her to have her operation. She gets the doctor and now all she needs is Margaret's signature. But before Bree goes to visit Margaret, she gets a phone call from a New York police station asking for a Stanley Osbourne (Bree's old name), saying they have his son.
Bree goes to Margaret to tell her about it, laughing it off as she thinks it's ludicrous she could have a son (or at least wants to think so seeing as how her operation is very soon). But to Bree's dismay, Margaret refuses to sign the consent form. She says Bree needs to acknowledge that Stanley is a part of her, and needs to tie up all loose ends with Stanley's life before she can move on with Bree's.
Bree must now drive to New York to bail out her "son" who she still thinks is lying and rush back to L.A. so that she can have her surgery. Seems pretty simple and not too funny either, right? When Bree gets to New York and bails out Toby (her son played by the very effective Kevin Zegers), he shows her a picture of his mom and dad. His dad being Stanley and his mom being Stanley's one night stand.