What leads Dr. Kotorida to chew the fat, so to speak, is his desire to overcome his ineptitude in mind and body. Overcoming the gag reflex — mine, not his — I watched in flashback how his first, melts-in-the-mouth taste experience of the forbidden transforms him into a handsome new man, a lady-killer who happens to eat them, too. His Windigo psychosis heats up when he comes across a suicide in the woods. Taking the body home and carving it up provides him with plenty of leftovers in the fridge to satisfy his appetite. Of course, this being a horror movie, women are the only items on his menu.
Unlike Hannibal Lecter, another doctor with a penchant for human sweetmeats, Kotorida is more introspective and philosophical, and always eats whom he kills. Through his narration we view him as charming, even if seriously screwed up inside. Fukutani's direction is meditative, even when displaying the nauseating aspects of Kotorida's story. While there are copious amounts of viscous blood and unpleasant, close-up body carvings, it is Kotorida's reflections on his unique appetite that quietly and meticulously move the story to its grisly wedding scene climax.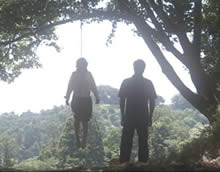 But before we get to sample the wedding reception's special buffet — it puts to shame any ice sculpture I have ever seen — narrated flashbacks show us how he satisfies his need for fresh meat. Stumbling on the corpse in the woods may have sent his taste buds into ecstasy, but they desired something less gamy. Rumor sends him searching for the cannibals' equivalent of a Trader Joe's grocery store. In a series of scenes very similar in structure and flow to Hostel, he is tantalized by a woman at a discotheque, who intentionally blocks his pursuit of a man he suspects can give him what he desires most. We quickly find out why.
She takes him to a special dining place, where patrons wait anxiously for the floor show to end and their very expensive dinner to be served. In a twisted Benihana-like experience, where part of the fun is watching the preparation of the meal, the meal in this restaurant puts on a bloody good show instead. A disorienting scene, shot in primary colors, filtered through the amoral detachment of the patrons, exposes Kotorida to a secret world of forbidden tastes available for a price. Unlike the secret world in Hostel, however, victims here are willing to become a pot pie for the sake of a large sum of money, which will go to their families.