The smart, cute opening title tells you everything you need to know about Thank You for Smoking: it's about the tobacco industry, it's smart, and it's cute. Just about the only thing it doesn't say is that it's a darn good satire.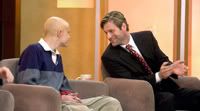 Nick Naylor (Eckhart) is the VP of The Academy of Tobacco Studies, an institution that is supposed to conduct research on the harmful health effects of cigarette smoking. In reality, Naylor is a lobbyist for and the voice and face of Big Tobacco. His boyish charm, his knack for gab and perfect skills of spinning earn him the trust of "the Captain" (Duvall), the granddaddy of the industry. His appearance on the Joan Lunden show sets off a series of propaganda battles, and Senator Finistirre (Macy) is out to draw blood. Despite his better judgment, Naylor also quickly becomes sexually involved with a beautiful reporter, Heather Holloway (Holmes), who is doing an article on the tobacco industry.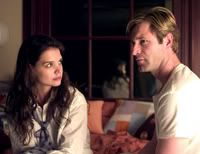 Meanwhile, Naylor wants to be a good father. His ex-wife (Kim Dickens) hates him, but he wants to spend some quality time with his son Joey (Bright). So he takes Joey with him on his business trips. Joey's presence gives Naylor the opportunity to question his morality, and the reasons why he's doing what he does.
Eckhart (Suspect Zero) carries the film beautifully as the slick lobbyist. His character is loathed by millions of people, and we do question this guy's morals. However, Eckhart is endearing and charming, and totally believable as a man caught between his ambition and conscience.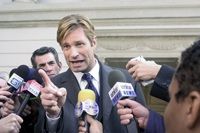 The supporting cast includes a long list of named and veteran actors who all give excellent performances: Macy (Sahara) for his portrayal of the flustered Senator; Simmons (Spider-Man) as Naylor's backstabbing boss, B R; Holmes (Batman Returns) as the sexy, ambitious, and ruthless reporter; Duvall (Kicking and Screaming) as the fatherly Big Tobacco tycoon; Lowe (Austin Powers) as the smooth Hollywood super-agent; Bello (A History of Violence) and Koechner (The 40 Year Old Virgin) as Naylor's friends and fellow lobbyists; and Bright (Birth) as Naylor's curious and adoring son.