Earlier this month, slacker auteur Kevin Smith made a bid for the mainstream with the very funny Zack and Miri Make a Porno, and now comes David Wain, someone both far more underground than Smith and yet far more willing to accommodate the masses. The results are better than one could have hoped for.
The plot, for one, doesn't exactly sound inspired: Danny (Paul Rudd) and Wheeler (Seann William Scott) go around to the nation's high schools pimping the energy drink Minotaur as a good alternative to drugs. Wheeler wears a bulky, furry Minotaur costume, shouting "Feed the beast!" and the two drive around in a tricked-out Minotaur Mobile. You get the idea.
Danny is loathe to be reminded that he's been working at the company for ten years; he suffers no fools yet doesn't seem to realize that he is one. He hates anything common or ordinary, and after getting into a fight with a Starbucks employee over proper-size labels, he loses his lawyer girlfriend Beth (Elizabeth Banks, a versatile actress also on screens in W. and the aforementioned Miri). Dejected and determined to self-implode, Danny's behavior at school assemblies becomes reckless, and he runs the Minotaur Mobile into a statue of a horse. Beth tells Danny and Wheeler that they have one of two options: They can do jail time, or they can help out at the Big Brother/Big Sister charity Sturdy Wings.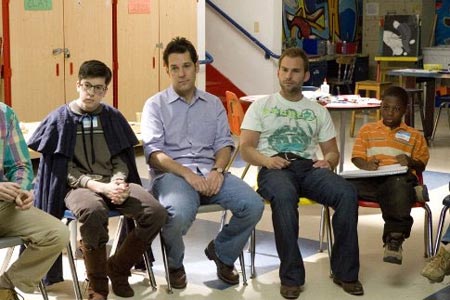 They choose Sturdy Wings, though they soon begin considering the advantages of prison. Danny is assigned to spend time with Augie Farks (Christopher Mintz-Plasse), a socially awkward teenager who comes to life only when on the foam sword battlefield of Lair, which is basically the love child of Dungeons & Dragons and a low-rent Renaissance Faire. Wheeler is hooked up with Ronnie (Bobb'e J. Thompson), a gleefully profane child who starts off their relationship by accusing Wheeler of sexual harassment.