How many movies have you seen that have portrayed the role of motherhood? Many, I'm sure you're thinking. That's what I thought myself, when I was asked that question earlier this week. But then I wondered, in how many of them was the character of Mother a developed character? There are a lot of characters named Mom, but they are usually on the periphery of some other main story. Surely there are characters more central to the plot who play more than a superficial representation of the female parent.
Susan Sarandon and Julia Roberts in Stepmom played two different mother roles - the birth mother and the stepmother. I happen to love both actresses and this was a must-see for me. But again, although both roles explored some of the challenges mothers face, it was really within the larger context of exploring how two unalike strangers and women deal with being thrust together and having to adapt and define new boundaries and learn to trust each other.
The Family Stone is a more recent favorite of mine, and Diane Keaton does a tremendous job playing the matriarch, her role made even more poignant because she must reflect on motherhood as she comes to terms with her own mortality. Sally Field in Steel Magnolias explores the maternal instincts a grandmother must struggle to suppress in order to support her daughter's need to define her own boundaries as a parent. These are complex and challenging roles, and yet as important as each is to the movie, they are only a part of telling another bigger story about family and friendship.
Writer/director Katherine Dieckmann has set out to change that with Motherhood - a story about a career woman turned stay-at-home mom, reflecting on what her daily life has become. Loosely based on the director's own experience living in a rent-stabilized walk-up apartment in New York's Greenwich Village, the story captures a day in the life of Eliza (Uma Thurman)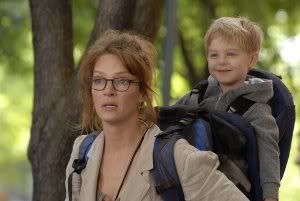 a former fiction writer, turned SAHM and blogger.
Blogging has become her sole creative outlet, and in-real-life she is supported by her best friend Sheila (played by a very pregnant Minnie Driver), and her well-meaning but distracted husband (Anthony Edwards) who is largely oblivious to Eliza's struggle to understand and redefine her identity.