Films that explore volatile racial tension seem to be a rage now. Last year's Crash was a tour-de-force ensemble gem. Freedomland, on the other hand, is a self-indulgent mess.
When a woman shows up dazed and confused with bloody hands at the emergency room in Dempsey, NJ, detective Lorenzo Council (Jackson) is called in to investigate. It turns out the woman, Brenda Martin (Moore), has just been carjacked and her son was in the car. She indentifies the suspect as an African-American man living in the Armstrong housing project. The allegation and the perceived bias over a "missing white child" send the community into a frenzy. Tempers flare. The already-taut tension between the police and the residents at Armstrong is coming to a boil. The black community looks to Lorenzo to avert a riot, but his hands are tied.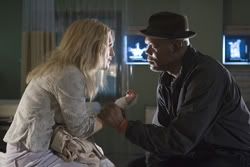 Lorenzo's experience tells him that Brenda has not told the whole truth, that she is hiding something. The more he questions Brenda, the more evasive she becomes. To make matters worse, her brother, Danny (Eldard) is a detective from another precinct, and he's determined to turn Armstrong upside down to find the culprit and his nephew, and there's nothing Lorenzo can do to stop it. Lorenzo asks for help from Karen (Falco) and her group of concerned mothers who have worked over the last decade finding missing children in the neighborhood. Together, they attempt to find out what really happened.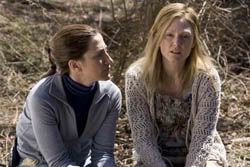 Jackson (Star Wars) is solid as Lorenzo, a man who is filled with regrets and his own demons. Jackson's slightly over-the-top performance does give the character an edge and some complexity. However, Moore (The Forgotten) has turned her portrayal of the disturbed Brenda into a caricature. Her usual subtlety and nuance are amiss here. Her crying, screaming, and evasion become tiresome and grating very quickly. It's sad to see her being typecast in these tormented, weeping mother roles.
Eldard (House of Sand and Fog) turns in a two-dimensional, boring performance as Brenda's hot-headed detective brother. His character is so gratuitous that I actually feel sorry for him. Falco (The Quiet), on the other hand, gives us one of the best performances in the film as a quiet, resolute, yet grieving mother. She steals every scene she's in. Forsythe (The Devil's Rejects) doesn't have much to do as Lorenzo's partner, but Ellis (Perception) is effective as the compassionate Felicia, one of Brenda's friends at Armstrong.