Director Sidney Lumet's courtroom dramas (12 Angry Men, The Verdict) are always intense and thought-provoking. Based on a true story, Find Me Guilty offers an interesting commentary on our legal system from the point of view of a character who is both intimate with and ignorant of it.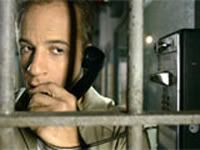 Giacomo "Fat Jack" DiNorscio (Diesel) is a crook: drug-dealing, money laundering, pimping… you name it. Soon after he recovers from being shot by his cousin, Tony (Esparza), Jackie is convicted of a narcotic charge. He's serving a 30-year sentence when prosecutor Sean Kierney (Roache) offers him a deal. You see, Tony squealed, and for the first time Kierney has a chance to bring the Lucchese crime family down on a RICO (Racketeering Influenced and Corrupt Organizations) indictment. If Jackie agrees to cooperates with the government and testify, he could get out of jail without six or seven years. Jackie, loyal and stubborn, refuses to rat on his friends and family, and the case goes on to become the longest organized crime trial in history.
Fed up with his attorney, Jackie decides to defend himself in court, much against the objection of the Lucchese family and their lawyers, including Ben Klandis (Dinklage). Jackie faces scrutiny and ridicule from all sides, including the family he's trying to protect. But he doesn't give up. He tells the jury that he's no gangster, but a "gagster," and proceeds to charm the pants off of everyone, even Judge Finestein (Silver) with his genuine personality.
Action star and sex symbol Diesel (The Pacifier) does a surprising dramatic turn as Jackie D. With makeup and costumes, Diesel looks 20 years older (and rather ridiculous with thinning blond hair) and 30 pounds chunkier than his normal buff self. But his dramatic chops are even more impressive. His betrayal of the uneducated but street-smart "gagster" carries the film. Even though we know he is a crook and he's protecting a true crime family, we admire his loyalty and resolve, and we actually root for him. Jackie D. has personality to spare, and the bigger-than-life Diesel pulls off a very respectable performance.
But Diesel has help. Dinklage (Fortunes) manages to steal the film from him. Dinklage is articulate, empathetic and authoritative as lead defense lawyer Ben Klandis. His command of the screen is impressive. Silver (Red Mercury) is also wonderful as the just and paternal Judge Finestein. Roache (Twelve and Holding) is intense and spot on as the uptight prosecutor who would stop at nothing to win.