I've always thought the toughest reviews to write are for movies that are merely okay — I'm not enthusiastic enough to praise them, but there isn't anything grievously wrong enough with them to pan them. It turns out there's an even more difficult review to write — for well-intentioned documentaries on important subjects that are merely okay.
It's tough to critique the film without sounding like you're critiquing the film's subject, which is ill-advised when you're dealing with a documentary on the subject of the ongoing genocide in Darfur, and what people are doing to rally against it. Darfur Now is about as well-intentioned a documentary as you're going to see, detailing the stories of six people working to resolve the conflict.
Their stories are a mixture of harrowing and inspirational, ranging from the activism of UCLA student Adam Sterling and actor Don Cheadle, the UN work of World Food Program leader Pablo Recalde and International Criminal Court Prosecutor Luis Moreno-Ocampo, and the first-person accounts of Darfurians Hejewa Adam and Sheikh Ahmed Mohamad Abakar, each of whom have been personally affected by the Janjaweed attacks that the United States government has defined as genocide.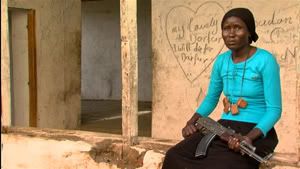 It's an important story that needs all the attention that it can get, and watching the film, you get the impression that everyone involved with the project is in it for the right reasons. Unfortunately, that passion and those good intentions are not enough to create a compelling documentary. Which brings me to the other difficult part in reviewing an average-quality documentary: critique it for being dull, and it sounds like you miss the entire point of a film whose main goals are to inform rather than to entertain (which is why I use euphemisms like "compelling").
It's true, a documentary about the ongoing genocide in Darfur need not be entertaining, but it does need to connect with viewers. Darfur Now does manage to connect at times, particularly with the stories of Abakar and Adam, which give the movie its emotional core, but too often it keeps us at an arm's reach. Much of the film is composed of interviews with the subjects (a notable exception being when Cheadle filmed his and friend George Clooney's trips to China and Egypt to discuss Darfur with government officials with a camcorder), giving the 98 minute film a visual repetitiveness that does not serve it well.