I admit I have never been an Adam Sandler fan (although Punch Drunk Love was very good) and I didn't have great expectations for Click. Part of my prejudice was confirmed, but I was also rather pleasantly surprised at the end.
New York architect Michael Newman (Sandler) is overworked and under-appreciated by his boss Ammer (David Hasselhoff). In turn, he's neglecting his lovely wife Donna and two kids. He needs to regain some control of his life and the first thing he wants is a universal remote control. At a Bed, Bath and Beyond store, he meets Morty, who gives him a slick "universal" remote that may solve all his problems.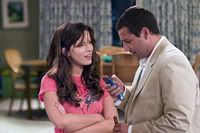 Soon, Michael discovers that the device controls everything in the universe. He can pause people or events, fast forward, go backward, and skip chapters. He can go back to see past events (but he can't change what has already happened - that's the catch). At first, that all seems great. He is able to skip over mundane chores, fights with Donna, and sicknesses. But when he's passed over for a promotion, the remote starts to act strangely. It starts to skip over large portions of his life. Soon, Michael discovers that the life he's known will come to an end, and the future is not what he expects.
Sandler (The Longest Yard) is his usual schmuck in Click. His overdone, childish brand of acting seems to fit the kind of stories he's telling. Still, he's way too immature for a hot shot architect to be completely believable. And one does wonder: what is a beauty like Kate Beckinsale (Underworld: Evolution) doing with a schmuck like him? She is smart, funny, loving, sweet, and gorgeous. Fortunately, Sandler and Beckinsale do share a nice chemistry, so this pairing isn't a total disaster.
Christopher Walken (Domino) has a great time playing Morty, a calmer and more sinister version of Christopher Lloyd's Doc in Back to the Future. Walken manages to steal every scene he's in from Sandler. Hasselhoff (Dodgeball) is also an unlikely scene-stealer as Sandler's insensitive boss. Henry Winkler (The King of Central Park) and Julie Kavner (The Simpsons) are perfect as Sandler's adorable hippy parents. Sean Astin (24) is underused, mostly as Sandler's punching bag.
The story by Steve Koren and Mark O'Keefe (Bruce Almighty) is nothing new. It's basically a funny version of It's a Wonderful Life. Director Frank Coraci (Around the World in 80 Days) has a frantic style that is quite suitable for the film. The make-up is outstanding, though, and the futuristic sets are interesting.