According to the American Heritage Dictionary, "changeling" is an actual word. To be perfectly honest, I didn't know this; I heard the title of Clint Eastwood's latest film and started imagining a mysterious and otherworldly threat, like something out of a David Lynch movie. The definition is "a child surreptitiously or unintentionally substituted for another," which is what the movie concerns itself with, though the archaic definition--one who is "changeable, fickle"--might better describe the audience's attitude toward the whole affair.
It's 1928, and single mother Christine Collins (Angelina Jolie) works as a telephone operator, rolling around the office on roller skates, while raising her young son Walter (Gattlin Griffith). Changeling is at its best examining Christine's suburban domesticity. The screenplay by Babylon 5 creator J. Michael Straczynski's gives Jolie and Griffith some clever, amiable dialogue to establish their mother-son bond. The movie gets off to a nice, unassuming start.
Then Christine comes home one day to find Walter missing, and Changeling suddenly stops worrying about Christine's home life and more about her hysteria. To me, it also becomes something much less interesting, but you may disagree. After a lazy investigation, the LAPD return to Jolie a child who is quite clearly not her own. Police captain J.J. Jones (Jeffrey Donovan) gives her a malicious grin and sends her on home with the bastard child.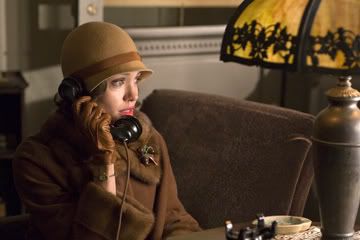 No one will believe Christine when she says that the boy is not hers, and because of that, the script shies away from any cleverness it had given her, content with letting her scream numerous variations of the line, "THAT'S NOT MY SON!" She screams it so many times, in fact, that she gets thrown into a mental institution, much to the dismay of industrious radio broadcaster Rev. Gustav Briegleb (John Malkovich), who rails against the corrupt police force when he's not behind the pulpit. (Scratch that: He does it at the pulpit too.)
The most fascinating part of all this is that it's a true story, and if vintage LA Times articles are to be believed, one which has made it to the screen without much fabrication. We're struck by the dizzying terror of its plausibility: if children can be so easily lost in today's world of Amber Alerts, mobile phones, and the ever-present background noise of cable news, then just imagine how easy it would be to lose a kid in the 1920s. Christine has a phone, sure, but no immediate way to contact her son, and no Internet to pick up her story and run with it. This leaves the good Rev. Briegleb as her only real hope, and even how much he can accomplish is up in the air.