Bolt (voiced by John Travolta) is quite a dog. He runs at incredible speeds, can melt padlocks with his heat vision, and has a handy super bark, all of which he uses to save his young owner Penny (Miley Cyrus) from the clutches of the evil Dr. Calico (Malcolm McDowell) time and time again. Unfortunately, Bolt doesn't realize that all of this is fake.
He's the star of a popular TV show, and to ensure that his performance is the most believable thing on television, the director (James Lipton) keeps Bolt cooped up in his trailer all day long. When he's let out, the cast and crew run through dangerous adventure scenes as if it's all really happening, taking care to make sure that Bolt doesn't see the men behind the curtain. It's so Method that even Sean Penn might be impressed.
One thing is real, though: Penny is Bolt's actual owner, and is depressed that he's living a lie and that she can never take him home with her. One day, after the show's producer complains of the series' predictability, filming ends on a cliffhanger, with Penny kidnapped by Dr. Calico until next week's adventures. Shut up in his trailer, Bolt is dismayed, and manages to escape, setting off on a cross-country journey to find the not-really-missing Penny, along the way meeting the streetwise cat Mittens (Susie Essman) and the TV-loving hamster Rhino (Mark Walton).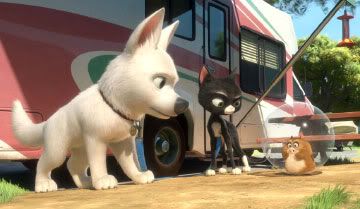 Over the next 96 minutes, Bolt learns the truth of his situation and rediscovers his purpose; over the same 96 minutes, Disney's in-house animation studio regains its footing. After years of bad ideas and half-hearted films, Disney has made its best animated feature since 2002's charming Lilo & Stitch. Bolt is a genuinely fun movie that actually stands a chance of entertaining both the tots and the grown-ups, something that couldn't be said for Brother Bear or Chicken Little.