In his debut directorial effort, (although he had already co-written a previous horror movie, Aberration, in 1997) Scott Lew directs Bickford Schmeckler's Cool Ideas (2006), defined by himself as "a labor of love" that took almost a decade to bring to the screen. Presented at the SXSW Film Festival, the film's message is "about rediscovering what's most important in life, expressing yourself and having fun". In 2003, Scott Lew was diagnosed with ALS (Lou Gehrig's disease), which motivated him even more to direct his story, "dedicated to anyone who has ever had a dark night of the soul and figured out a way to come out smiling".
The nerdy protagonist is Bickford Schmeckler (Patrick Fugit, Almost Famous, White Oleander, Wristcutters: A Love Story) and he suffers from paranoia in addition to being a science fiend hidden by a typical college freshman façade. He's written down all the theories that have turned up in his intellectually suffocated mind in a notebook with a steel cover called, in the most generic way, The Book. His geeky existence, slurping lollipops and wearing ironic t-shirts, is occasionally interrupted by college parties, where everyone has great time drinking, smoking pot, and flirting with girls, except him. He's always absorbed in his studies of a new revolutionary cosmic theory about unifiying chaos and find a meaning in everything, although sometimes his confusing thoughts go something like this: "Nothing can ever be truly, fully understood, not even the most simple idea. Not even this."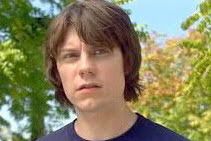 As crazy as his ideas on paper can seem to the other students, Bickford's nature is undeniably stubborn and persevering and he doesn't mind the stares of incredulity that greet him. In fact, almost every secondary character in the story holds an ambiguous attitude towards Bickford's eccentricity; there admiration mixed with perplexity, due to the recent popularity of quantum mechanics.