The forever-compatible Laurence Fishburne and Angela Bassett team up again in this inspirational story of an inner-city middle school student Akeelah Anderson, played by newcomer Keke Palmer. Once encouraged by her teacher, principal, and older brother, Akeelah decides to try out for the National Spelling Bee.
At first, Akeelah is apprehensive, not only because she's afraid of failing, but also because she doesn't want her less capable peers to think of her as a "braniac," something other kids at school already label her and ridicule her for. She gets A's on her tests without even studying and her teachers see a lot of potential in her (she even skipped a grade), but she skips school a lot and sometimes doesn't even do her homework. In her impoverished ghetto neighborhood, being smart doesn't exactly make you a rock star. Two girls, who are obviously on Akeelah's case a lot, start bullying her to get her to do their English homework.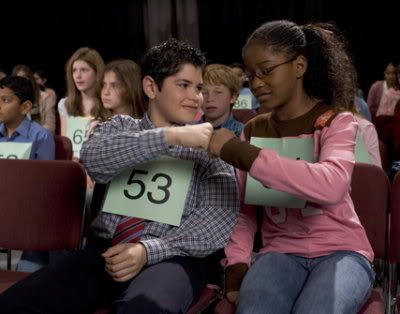 Once Akeelah's principal pretty much blackmails her into entering the school spelling bee as the only alternative to detention for skipping class, they all realize just how incredibly talented she is. She not only wins the bee against her notoriously dimwitted classmates, but when Dr. Larabee (Fishburne), a former UCLA professor who went to college with the principal, throws a few college level words at Akeelah, the room is shocked when Akeelah spits the words right back at him, spelling all of them perfectly in child prodigy fashion — all except the last word.
Akeelah is embarassed and runs off, only to later be convinced by her older brother who tells her that their father (who was shot and killed when Akeelah was six) would want her to do it. Akeelah goes to the regional bee despite her mother's (Bassett) wishes that she not do the bee in order to focus on her school studies.
Akeelah has many people that help her along the way, including the people in her downtrodden community - from her brothers and sisters (even her other troubled brother who has been causing their mother grief by hanging out with gangbangers) to her friends (including a Spanish boy she meets at the regional bee played by J.R. Villarreal that provides a comic but tender aspect to the film), to random people in the community, eventually even her mother, and of course, Dr. Larabee.
Fishburne and charming child actor Palmer turn out Oscar worthy performances as we see the relationship between these two grow into one that, near the end of the film, provides a scene that will have you sobbing on the movie theater floor. The inherent good nature of Akeelah, and her ultimate concern for doing what is right over winning, is what makes the end of this movie so incredibly satisfying and has you standing up and cheering for not just Akeelah, but the entire community that she got to back her - even inspiring other students to enter spelling bees.