I was not as impressed with director Greg Mottola's Superbad as many others seemed to be. I enjoyed it, but I wasn't able to shake the feeling that there was something missing. It didn't quite pull off the balancing act necessary to make both the funny and the poignant work; Jonah Hill can't really carry a movie, and I was never able to truly buy into the chemistry between him and Michael Cera. When compared to Juno, 2007's reigning king (or, more aptly, queen) of teen comedy, it certainly fell short.
That's why Adventureland is such an exciting movie. Not only does it display remarkable growth on Mottola's part, it also shows promise for other Age of Apatow comedies not actually produced by Judd Apatow. Apatow had a hand in Superbad, but despite the appearances of collaborators Martin Starr, Bill Hader, and Kristen Wiig, he had nothing to do with Adventureland. Even though this undeniably feels like an Apatow product, it's able to stand on its own as a fully realized film, one that could go toe-to-toe with any of Apatow's work (unlike, say, this year's amusing but disappointing I Love You, Man).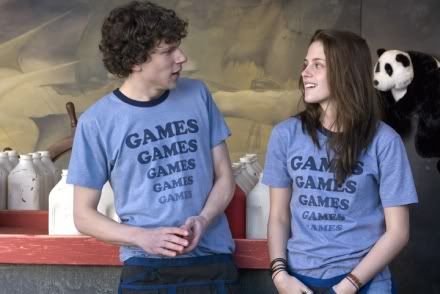 These kinds of movies are obsessed with coming of age, whether it be as a schlubby stoner or as an emotionally retarded man-child, but Adventureland takes a different tack by allowing young James Brennan (Jesse Eisenberg) to be smart and articulate — only without any financial means of achieving the goals he should be able to attain. After his parents hit a rough patch, James can no longer take his long-planned trip to Europe, or even enroll in the grad school he was hoping to attend. Thus, to make ends meet, he has taken a dead-end job at Adventureland, the cheesiest, most unbearable amusement park shithole in all of New York. This movie may take place in the summer of 1987, but it feels a lot like Now.