There was a time when Westerns engaged audiences on the level of a simple morality play where audiences knew who the good and bad guys were and were excited and entertained by watching the latter get their comeuppance. Then came along Sam Peckinpah's The Wild Bunch, which removed that moral façade and showed how real violence was not as sanitized. In the Westerns that followed, the violence combined with more reflective and intellectual dialogue to express morally complex ideas about the human condition.
James Mangold's 3:10 to Yuma is a masterful revisionist update of the classic western and I mean "revisionist" in the best sense of the word. That is to say, not only does the film unearth a seemingly forgotten genre but it also deconstructs the familiar elements to its spare parts to explore the darker weathers of human nature and the triumph of good that can arise in between. That I completely forgot the film is actually a remake of an older classic Western is a testament to how great it is.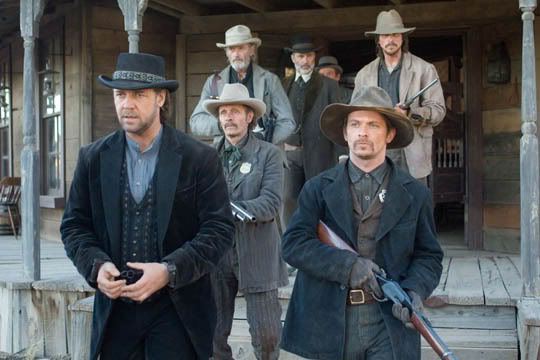 The movie opens in the home of Dan Evans (Christian Bale), a man seeking to rebuild his own life after he lost a leg in the Civil War. He is tired of the looks of shame and disdain from his wife, Alice (Gretchen Mol) and kids, William (Logan Lerman) and Mark (Benjamin Petry), and he is barely trying to keep his ranch afloat in the face of overdue loans. That chance seems to arrive to him when he seizes the rare and perilous opportunity to transport a captured robber and murderer, Ben Wade (Russell Crowe), to his prison train in exchange for 200 dollars that will help cover his debts.