Mission: Impossible III, the first in a series of big budget blockbusters this summer, started the summer off on a mediocre note. The JJ Abrams action flick opened disappointingly at the weekend box office in North America despite a mega publicity tour by the biggest movie star in the world, Tom Cruise.
The thriller three-quel sold $48 million worth of tickets in its first three days in theaters in the US and Canada, distributor Paramount Pictures said today.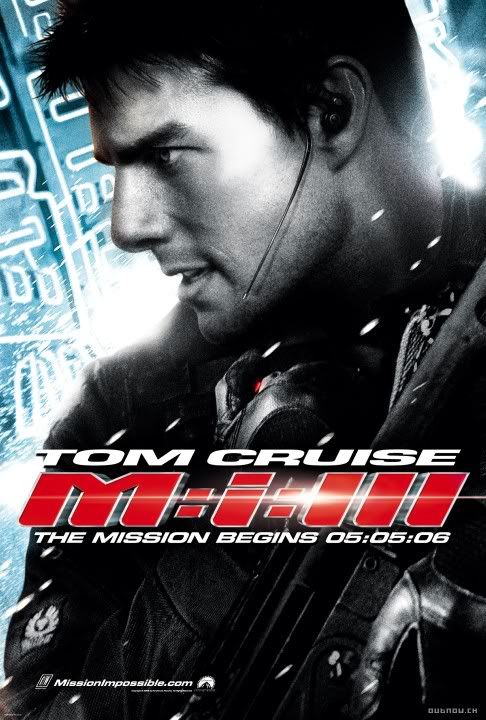 The studio expected at least a $50 million opening, so even though the film was redeemed by its $70 million international gross, it has moderately underperformed. The movie opened well almost everywhere with the exception of Japan and India, but bombed in Germany where Cruise has never really been successful.
The movie will most likely make back its hefty $150 million budget thanks to its foreign gross, but the $48 million opening spells doom for its domestic ticket sales. The film will probably cap out at $120 million, which is $60 million less than the first film and $95 million less than the second.
The first Mission Impossible made $45.4 million during the Friday-to-Sunday period, but its numbers would have been higher if not for Tuesday previews and a Wednesday opening.
John Woo's sequel earned $57.8 million for the same period.
Mission Impossible III is currently the second best North American opening this year, quite far behind Ice Age: The Meltdown with $68 million a month ago, and only $8 million ahead of Scary Movie 4.
Normally, I'd predict a higher number for the film's gross, given the generally good reviews M:I:III has gotten, but those reviews may be exactly what kept some fans away this past weekend. Many reviews pointed out how the movie was a lot of action, but that the story also focused around Ethan Hunt's romance with Michelle Monaghan's character Julia, which may have turned off some fans of the first two testosterone driven movies.