Yesterday American Idol contestant Kellie Pickler was the guest co-host on the catty gabfest The View, and she did a wonderful job. Entertainment Weekly's Michael Slezak suggests we replace the conservative robot Elizabeth Hasselbeck with Kellie — and I'm all for it. Kellie has more personality in her cute little ruby red pump than Elizabeth has in her whole George Bush-loving body.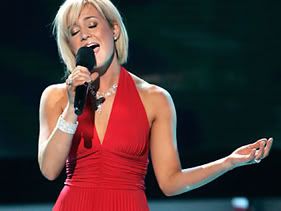 But as the Pickler announced on the show yesterday, she has a record deal with Sony/BMG Nashville, and has a single coming out in September with the album dropping November 14 — so it looks like that's not a possibility.
In Housewives news, not only is Mischa Barton trying to get her way onto the show (which, if that happens, I'll be throwing my television out of my 23rd story Manhattan window), but Heist star Dougray Scott is in talks to play Susan Mayer's new love interest (since Mr. Mike Delfino is now comatose).
Yesterday I said that The Practice's Lara Flynn Boyle has a new project coming up on TNT. Well another star from David E. Kelly's love child, Camryn Manheim will be on TV again as well. She's joining the cast of The Ghost Whisperer as Jennfer Love Hewitt's new sidekick (since Aisha Tyler was done being the Robin to her Batman). Hewitt tells the press that funnyman Jay Mohr will also be joining the cast.
The CW network announced Friday that Academy Award winner Whoopi Goldberg will be guest starring on the Golden Globe nominated comedy Everybody Hates Chris.
The network says:
Goldberg will appear in two episodes of Everybody Hates Chris, which premieres October 1 (7:00-7:30 p.m. ET). She will play Louise, a woman from Queens who moves in next door to Chris' (Tyler James Williams) family, and whose granddaughter is the latest object of Chris' affections.
I've missed me some Whoopi.