After hearing Maureen Palmer's personal tale of divorce, which involved sharing a home with her ex-husband for the benefit of their children, I had to ask: "Are you special?"
Palmer, whose documentary How to Divorce and Not Wreck the Kids airs January 8 on CBC, laughed. "I'm not special. I'm really quite flawed. No, we're not special. Graham and I stumbled and made mistakes along the way. I don't want to hold myself up as a paragon of virtue. Basically I'm saying if I can do it, anyone can do it."
The How to Divorce idea and title came from Palmer's two daughters, now 22 and 27. Their parents divorced over a decade ago and first alternated living in the family home so the children wouldn't have to be be the ones to move. Then when Palmer relocated to Vancouver, she commuted to spend a few days every couple of weeks living in the basement and "doing the mom thing." Palmer and ex-husband Graham Thomson, a political columnist for the Edmonton Journal, considered writing a book, as their daughters suggested, "then I thought, no, I make television; there's a way to do this that will let me get paid," she joked.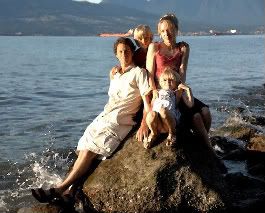 How To Divorce and Not Wreck The Kids follows three couples choosing similar ways of staying out of court and keeping their "eye on the prize": children unscarred by a bitter divorce. Roland and Carolye choose a do-it-yourself divorce kit, Mike and Melissa work with a mediator, and Lionel and Sally use a process called collaborative divorce. The cameras follow them through some trying times, and Palmer credits their altruism for allowing themselves to be filmed during one of the most difficult periods of their lives.
"Lionel and Sally are educators," Palmer explained as an example, "so I think they thought if there's something they can salvage from this, they wanted to do it." Melissa, who wasn't aware of her own birth father until after he died, felt strongly about sharing the message that it was "important to honour both parents, from both parents," Palmer added.
Barring severe complicating issues such as abuse, alcoholism, or mental illness – "I don't want those people who watch this documentary to walk away feeling guilty, because it's not the same thing" – Palmer believes divorcing couples should and often do consider the options explored in the documentary.
"The higher the conflict, the more you have to discover ways to lead with your better self," Palmer asserted. She believes most people who find themselves in an acrimonious breakup are open to finding alternatives. "There's a part of you thinking, I don't want to be like this."