The FOX Network press release for next Tuesday's House, MD tells us that House's father dies. On most television shows, we would know what to expect. Funeral, family, tears and hugs, reconciliations and regrets. But seriously, guys, this is House, MD we're talking about, right? Nothing is ever conventional about House or House. Throw Wilson into the mix (we know he's there from the episode previews) and who knows what we'll get?
Of course we should expect some sort of exploration about House and his troubled relationship with his dad — and an exploration of House's fractured relationship with his best friend Wilson. (And speaking of the wonderful duo of House and Wilson, be sure to check out next week's issue of TV Guide — hitting the newsstands Thursday — which features a wonderful interview with Hugh Laurie and Robert Sean Leonard discussing their estranged alter egos.)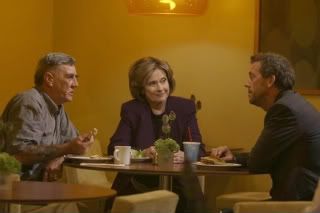 So, with no new House episode to discuss this week, I thought it might be fun to speculate about how House might confront the death of his father. We already know something about House's relationship with his parents. And it's clear that his relationship with them is strained (especially with his father). House seems to avoid all contact with dad, at least.
In "Daddy's Boy," House's parents have a stopover in Newark on their way to Europe. They want to drop in on their son, and House is, to say the least, reluctant to meet them. But rather than lie and make up an excuse for not seeing them, House manipulates himself into having alternative plans. He sets up dinner with Wilson so that he is unavailable. When Wilson learns what House has done to avoid his parents, he tells his friend to either see them or not, but not to use him as an excuse.
Soon, it seems, everyone in House's circle knows that his parents are coming to visit, although no one but Cameron, Cuddy, and Wilson seems the least bit interested. He asks Cuddy to assign him to the clinic; she tells him to do the grownup thing and lie to them. Tell them you're busy, she says.