It happened guys! Jennifer Hudson won herself a Golden Globe for Best Supporting Actress in a Motion Picture. Now I just need her to win that damn Oscar! And how many did Miss Overexposed double nominee Beyonce win? Zero. Zilch. Nada. Not even the one she and her daddy were expecting to win, Best Original Song — which went to Prince, a no-show (at the time — he showed up later).
After all that talk of how you lost 20 pounds, worked with an acting coach for six months, how you've always dreamed of an Oscar since you were a little girl, how your first choreographer told you you were meant to play Deena, and how different you and Deena are from each other, you still walked away from the Golden Globes with egg all over your face.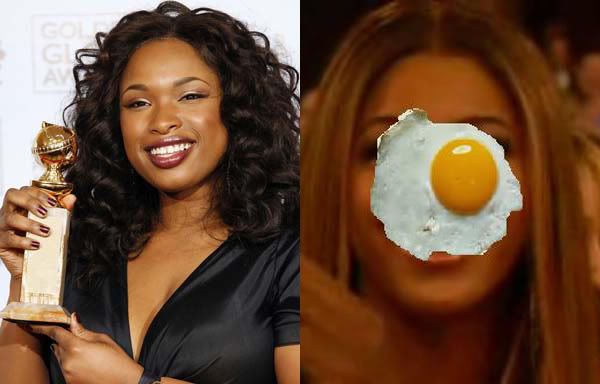 Maybe she actually did win and they decided to change their minds at the last minute because she showed up looking like New York from Flavor of Love. This is the Golden Globes, honey, not the VMAs. You don't show up in a dress you bought from Drag Queens 'R' Us and ten different weaves in your damn head. Class it up a little.



Here's video of Jennifer's emotional speech. Girl had me cryin'.
Meryl Streep took the award for Best Lead Actress in a Comedy/Musical for her fantastic portrayal of Miranda Priestly (cough, Anna Wintour, cough) in the huge blockbuster hit The Devil Wears Prada, and ended her hilarious speech with her signature line from the movie, "That's all." Helen Mirren took the lead award in the drama category for her performance in The Queen, Forest Whitaker and Sacha Baron Cohen took the Best Lead Actor awards for Drama and Comedy/Musical respectively.
Whitaker was expected, and is expected to win the Oscar as well, and Cohen's only competition in the category was probably Ferrell or Eckhart, though both weak. This win gives Cohen better odds at nabbing an Oscar nomination, though the fact that he was snubbed at the SAG awards isn't a good sign. We'll see how it turns out.