If being human means having regrets, Erica Strange is very, very human. The central character of Being Erica, which premieres January 5 on CBC and will also air later on SOAPnet and BBC, has enough regrets to fuel a 13-episode season and beyond.
Erin Karpluk (Godiva's), who plays Erica with winning charm, describes her character as a 32-year-old woman who's overeducated and underachieving. "She's really candid and flawed and awkward, but she's also really resilient in overcoming adversities in life. It's about a woman trying to make the most of her life."
In the pilot episode, Erica is dumped by her Lavalife boyfriend, loses a job she's overqualified for, faces the disapproval of her family, and goes into anaphylactic shock at a coffee shock where she seeks shelter from storms literal and metaphoric. In the hospital she meets the mysterious Dr. Tom (Michael Riley, This is Wonderland), who gets her to write out her list of regrets and unwittingly commit to time-travel therapy. Each episode will focus on one of her regrets and her attempts to rectify past mistakes.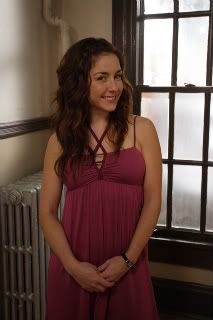 "By no means is it science fiction," Karpluk explained. "The time travel is more a catalyst for Erica to explore her past. She's learning from the past which enables her to make stronger decisions in the present which then shape her future."
In the first episode, for example, Erica is taken back to a high school dance where she felt her life started to unravel, allowing Karpluk to model 90210-era Shannen Doherty hair and high-waisted tapered jeans, as she laughed. The soundtrack is full of familiar '90s tunes, too, adding to the nostalgic fun of the flashback scenes.
Erica has little time to regret past fashion disasters as she struggles to improve on the poor decisions her younger self had made. "With the lessons in the show it's just like lessons in life – they're not tied up in a neat little bow," explained Karpluk. "It's not 'I've learned not to be bullied,' you know, she just learns to stand up for herself a bit more. There's definitely an evolution in her character in the present as she starts getting her act together. Physically she changes a bit, and her job starts getting better."