"As for me, I'm just goin' with it".
Emile Hirsch is on his way to becoming one of the most promising actors of his generation by means of nuanced, versatile, and indelible performances. He's also a bona fide Hollywood heartthrob due to his emerald-green eyes, sculpted cheekbones, attractive self-confidence, and a slight resemblance to peers like Leonardo DiCaprio or Stephen Dorff. His most recent roles are far from the usual action hero/hottie archetype. He recently appears as San Francisco gay activist Cleve Jones in Gus Van Sant's biographical Milk, and has an upcoming role in Ang Lee's Taking Woodstock, which just wrapped up in post-production and in which Hirsch plays an unhinged Vietnam vet at the historic Woodstock Festival.
In his first important roles in indie cinema — 2003's The Mudge Boy and 2004's Imaginary Heroes -- Hirsch raised his intense but subdued acting bar by portraying eccentric, sexually charged suburban boys trapped in the cinders of adolescence.
Another quality that makes Hirsch so special in his celluloid adventures is the magnetism he shares with all his love interests in his films, as we can see in this interview:
Q: Is there something you can enjoy - besides all the nerves - while doing a love scene in a movie?

Hirsch: Oh totally. I loved it. It's totally romantic. To me, it's a very intimate thing.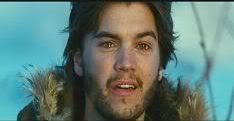 One of the most memorable of Emile Hirsch's characters to date is undoubtedly Chris McCandless (Into the Wild), a young adventurer who runs away from society and who meets Tracy Tatro (Kristen Stewart, Bella in Twilight) in a hippie community. Their too brief flirtation is sweet in a way that brings to mind classic cinema romances.
Tracy: I'm terrible.
Chris: You are not terrible. You sing sweet.
In the film, which was written and directed by Sean Penn and based on John Krakauer's book, Tracy (a young musician) invites Chris to go take a walk to Salvation Mountain, where a wildly optimistic old man lectures the couple on love's power.
Chris: You really believe in love, then.
Old man: Yeah. Totally. This is a love story that is staggering to everybody in the whole world.
When asked what year she was born in, she tells Chris that she's only 16.