A seemingly ill-conceived festival re-branding campaign in season two of the three-season behind-the-scenes theater series Slings & Arrows uses lines from bad reviews to connect with a new audience. One such review reads "...theater has never made television looks so good." Well, in the case of this Canadian TV import, I can honestly say television has never made theater look so good.
I first discovered Slings & Arrows during the non-stop coverage of The Sopranos finale. TV critics on NPR were debating, prematurely, whether the HBO mob saga was the best show in the history of television... ever. One critic chimed in on his love of the show Slings & Arrows, calling it the best show he had ever watched.
As a viewer who has taken in the series Slings & Arrows twice in its entirety, I'd have to say the critic wasn't far off. The show about the fictional New Burbage Theatre Festival (based loosely on Canada's Stratford Shakespeare Festival) is the best combination of Aaron Sorkin and Alan Ball, two people who have made what are arguably the best modern TV dramas, The West Wing and Six Feet Under, respectively.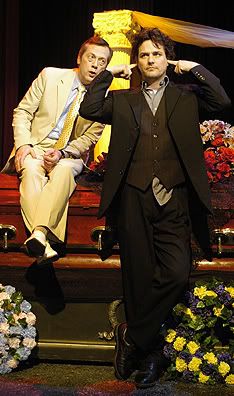 With Slings & Arrows, we get Sorkin's behind-the-scenes look at theatrical productions of Shakespeare's classics featuring an idealized version of a festival's artistic director in Geoffrey Tennant (Paul Gross). Tennant is an eccentric artist who believes in the power of the theater. He takes over for former friend/mentor/enemy Oliver Welles (Stephen Ouimette), who - and here's where the dark comedy of one Alan Ball comes in - dies after a ham truck runs him over.
At the time of his death, Welles was, as the local theater critic puts it, going through the motions. The shows were stale, but profitable, something the bean-counting festival director Richard Smith-Jones (Mark McKinney) didn't mind one bit. Upon Welles's death, Smith-Jones, at the urging of an American business executive with ties to the festival's major corporate sponsor, Holly Day (Jennifer Irwin), begins to develop major Disney World-type improvements to the festival. That is until the board appoints artiste Tennant as interim artistic director.