I've been having trouble with how to approach this review since I watched the new two-disc special edition DVD of L.A. Confidential a little over a week ago. Generally, it's standard reviewing technique to withhold one's ultimate opinion of the movie until a big flourish at or near the end, parsing out smaller opinions to slowly make one's case until the big finish (this technique has the added benefit of forcing readers to keep reading until the end). But in this case, I don't feel like I have anything to say about the movie until I get the big flourish out of the way, so I'm trusting you all to keep reading after I do, so here goes: L.A. Confidential is easily one of the best movies of the past 20 years, an absolute masterpiece that is as fresh today as it was 11 years ago.
Adapted from the book by acclaimed crime novelist James Ellroy, L.A. Confidential is a noir tale about crime and corruption in the 1950s LAPD. Infused with all the glamour of Hollywood Babylon, the movie follows three police officers as they attempt to unravel the mystery of the Nite Owl Killings, a multiple homicide set in a Hollywood coffee shop. As officers Bud White (Russell Crowe), Edmund Exley (Guy Pearce), and Jack Vincennes (Kevin Spacey) pursue the case and cases surrounding the Nite Owl, their stories converge, forcing them to work together to get past the corruption in the city of angels.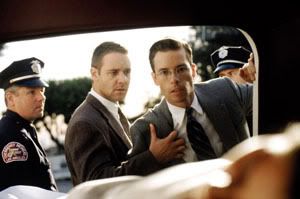 In many ways, L.A. Confidential is notable for all the things that it isn't as much as it's notable for the things that it is. It's a crime noir with all the moral ambiguity and femme fatale tropes one expects from the genre, yet it isn't simply a genre piece. Director Curtis Hanson and cinematographer Dante Spinotti flood the film with the sunlight of California rather than lurking in the traditional shadows of noir, while screenwriters Hanson and Brian Helgeland eschew the hard-boiled dialogue usually found in the genre for a more natural, contemporary sound. The result is a stylish thriller that is more than a mere exercise in style.
The film is a mystery thriller full of twists that doesn't rely on twists for its thrills. Instead, the film hinges on the masterfully dense plotting and strong performances of its ensemble cast, rather than cheap gotcha moments that generally limit the impact of thrillers to a total of one viewing. This isn't the case with L.A. Confidential, which is as rewarding to watch the tenth or twentieth time as it is for the first time. Knowing the surprise moments don't detract from the experience, because the film takes no cheap shortcuts for simple shock value. As complicated a story as it is, its also told in a very economic fashion, without wasted effort or gimmicky filler.