I don't ever really remember not having the Internet. When working at my day job, I find myself emailing co-workers in other states rather than calling them. It's my first impulse when I want to communicate, though the older coworkers prefer phone.
I'd recommend Four Eyed Monsters to them for two reasons. First, it's a damn fine film, intimate and funny. Second, it's a film so aware of life in the digital age that it, more than any other film I've seen on the subject, illuminates the personality behind the impersonal nature of 21st century communication.
The film follows the introverted videographer named Arin (Arin Crumley), who has more to offer in lust than he does in ambition. He spends his days ogling women on the streets and sending messages to girls on social networking websites hoping for a cyber connection. After hundreds of outgoing messages, one from Susan (Susan Brice) finally arrives in his inbox.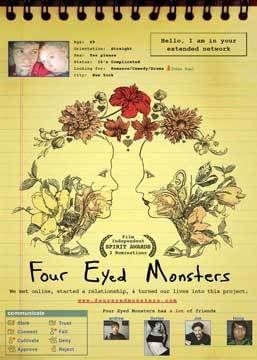 The two end up engaging in a peculiar but effective relationship where neither person directly talks to the other. Through notes on paper or video messages, the two form a connection that frees them to create the movie we are watching.
That last sentence makes the film appear more experimental than it really is. While Four Eyed Monsters is an avant-garde, uber-modern romance, it's still a romance, earnest and affecting. The co-directors Crumley and Brice (also the stars) have big things to say here, but they say it with a passion that makes me think their lives truly depended on this film.
Maybe I'm confusing the characters with the filmmakers, but Four Eyed Monsters is personal, bordering on exhibitionistic. I don't recall any film committing so much energy to understanding the casual cyber communication, while immersing itself so deeply in it. More importantly, the film succeeds without outright indictment or support of the medium.