I'd be lying if I said that director John Gulager didn't have style. He has quite a lot of it, actually, and some of his visuals are very nifty. But he doesn't stand a chance in Hell of being a good director if he's going to apply his style to something as vigorously stupid as Feast II: Sloppy Seconds. Even as far as direct-to-video sequels go, it's an abomination.
The plot is barely worth mentioning, but it involves a lot of characters with descriptive names like Biker Queen (Diane Goldner) and Bartender (Clu Gulager, John's father) — the latter of whom lived through the madness of the first Feast — trying to survive in a small town teeming with alien monsters. Other characters include a pair of Little People wrestlers named Thunder (Martin Klebba) and Lightning (Juan Longoria García). Yes, one of them wears one of those Lucha Libre masks for most of the movie. Yes, they wrestle each other.
The movie has no intention of being scary; it's far too self-aware for that, and tries to take a sort of Tarantino-lite approach to the material. As with most films that try to imitate Tarantino, this one does so miserably. Instead of being Death Proof, let's just say that Feast II would've been right at home as one of those fake trailers in the middle of Grindhouse. In fact, I'm almost positive that a crazy announcer voice would've made this much more watchable.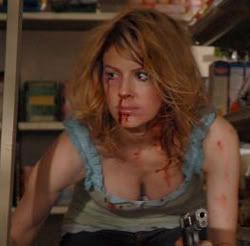 The first Feast was funny. It hearkened back to the boobs-and-blood days of '80s horror, and fit well enough into the mold of something more inspired like Evil Dead II. It was the end result of the third and final season of Project Greenlight, probably the only reality show worth a damn (so of course it was the only one no one watched), and I remember that at one point on the show, the producers got into a spat over scripts. Ben Affleck and Matt Damon were championing some oddball creative thing, while Chris Moore argued that if they wanted to keep the show going, they needed a commercially viable movie, which of course to him meant a dumber one. When they chose the Feast script by Patrick Melton and Marcus Dunstan, everyone was disappointed, especially considering the director they chose was as stylish as Gulager.