I reviewed the theatrical release of this film three years ago, giving it a surprisingly positive review. Since its release, its been derided as one of the string of bad superhero comic book adaptations that began with its release, and continued until this year's release of Iron Man broke the trend. What drove me to give this movie 3.5 stars all those years ago, I can't really say, but it does provide a good example of how you can never remove the externals involved in the moviegoing experience from one's perception of the movie itself. I'm guessing a lot of it had to do with me being in a good mood when I saw it, or some other reason besides the film Tim Story and company presented.
When writing that review, I did state that there was a possibility that subsequent viewings could reveal that the movie wasn't that good; in fact, the praise I gave it was muted at best. So it turns out that my review wasn't completely wrong, since it took exactly one more viewing for me to see the truth that most everyone saw with their initial viewing: this is a bad movie.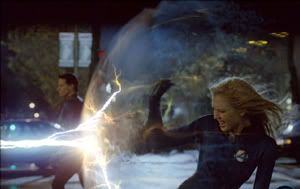 To be fair, my second viewing wasn't of the theatrical release, so it's not a exact comparison. The Extended Edition adds 20 more minutes of footage to the film, pushing it to a 125 minute affair. While I don't remember the theatrical cut enough to identify all the new scenes (and while it exists on the DVD, I have no desire to revisit it), I don't think making this movie longer does it any favours. I suspect it's like many DVDs that add in footage to coax more money out of consumers, in that it doesn't really add or subtract much from the movie, but the mere fact that it takes up more time to watch gave me more time to realise how bad everything is (whereas the leaner edition might've blown by fast enough that its suckiness had less time to stick).