The mockumentary series Cock'd Gunns is about a fictional rock band looking for their break. It also happens to be a show looking for a break. The first season, reminiscent of both Spinal Tap and Trailer Park Boys, is being replayed Fridays on IFC beginning January 9, and it's probably safe to say those reruns will be new to a lot of people.
"It was made very clear early on there wasn't going to be a lot of money to promote the show," said co-writer and co-star Brooks Gray, who plays impressively untalented drummer Barry Ciccarelli. "And they weren't lying."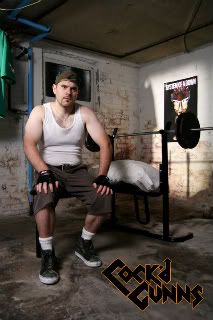 The first original production by a network that doesn't have a mandate for producing original series (IFC is the Independent Film Channel), Cock'd Gunns also had an abbreviated run on Showcase, where it's still available for viewing online. A second season is not quite as remote a dream as rock stardom for the inept band, however.
For one thing, the "upstart show on a fairly obscure channel" recently won two Gemini awards, including best writing and best ensemble performance for a comedy series, offering a burst of publicity besides the honour of the recognition. In addition to Gray, the co-creators and stars are Morgan Waters as lead singer Reginald Van Gunn (he also writes the music), Andy King as his brother Dick, and Leo Scherman as their rookie manager Keith Horvak.
"It sounds cliché, but it was an honour to be nominated in those categories, which were the big comedy categories, best comedy series, best writing, and best ensemble cast. To be honest, we were surprised when they called our names," revealed Gray. "I think there's a sense of a changing of the guard in Canadian comedy. There's some long running series coming to an end. It may have been partially a recognition of a new voice emerging in comedy."
For another, international interest – it recently sold to Turner Broadcasting Latin America, and Gray says US networks have shown interest – and the low cost of the mockumentary format, where everything is shot on location, means another season may prove to be a good investment.
"I like to say the rock and roll ethos of the show was preserved and maintained," Gray said of the lean and mean shooting style. Adding to the authenticity is its improvisational feel. "The scripts are written as scene by scene outlines," he explained, admitting the irony of winning a "best writing" award.