In a move sure to escalate their ongoing public feud, CNN correspondent Tucker Carlson told his Crossfire audience Tuesday night that the pissing contest between he and The Daily Show host Jon Stewart is just getting started. "Oh, it's on!" said Carlson, right before challenging Stewart and his crew to a dance-off.
Carlson, known for his bow-ties, conservative views and daredevil dance moves, made his challenge in response to Stewart's appearance on last Friday's Crossfire when, among other things, Stewart called Carlson a "dick" and described Crossfire as "partisan hackery."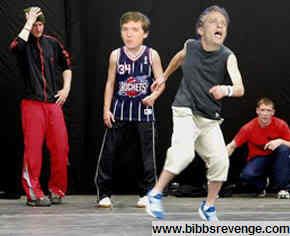 Of course, it didn't help matters that during Monday night's taping of The Daily Show, Stewart led the crowd in a chant of "You got served! You got served!" while showing a photoshopped picture of Carlson sharing a private moment with what appeared to be either a goat or fellow correspondent Bob Novak.
"That bitch (Stewart) came into my house and disrespected me," said Carlson, obviously still stinging from Stewart's dis. "I'm a grown-ass man, and he tried to chump my crew on national TV! I can't let that shit go unanswered. I'd lose my street cred. And that's why I'm gonna blow it up the only way I know how: straight street and all hood."
By way of explanation, Carlson added, "If you want respect, you've got to take it. We're going to settle this like men... on the dance floor!"
When asked for comment this morning, Stewart responded that Carlson "better recognize" who has the top crew, before he gets "blown up on the floor." Stewart then added, "Chatter chatter chit chit. That boy is straight trippin'. We gonna drop it like it's hot!"
Heading into the competition it would seem Stewart's crew, long recognized as the fake news industry's top group of dancers, has the definite edge. Carlson's crew, however, features some of the cable news industry's top poppers and breakers, with an obvious old-school influence from the presence of Novak, a true "Robot" phenom. (This is due in part to his three pacemakers and the metal plate in his head, which make all his movements appear jerky and hinky-dinky. Also, he never blinks.)
Details of the dance-off are still being worked out, although sources say the two crews are leaning toward a PPV event, with behind-the-scenes specials planned for both CNN and Comedy Central.