BC Magazine presents a collection of writers offering their opinion on the best film of the year. While there were over 300 eligible entries, they have wilted the list down to ten. Will one of your favorites be listed? If not, feel free to mention it below. And now, our feature presentation.
Caballero OscuroChildren of MenAlthough Children of Men is centered around the tired idea of a dreary dystopian future, director Alfonso Cuaron has taken an entirely refreshing and amazing approach that will reaffirm your belief in the art of filmmaking. Adapted from a novel of the same name by P.D. James, the film presents the chilling concept of a near-future world where the entire population is infertile. No children have been born in over 18 years, and the adults have lost hope for themselves and their communities. The population stumbles through their daily routines in a rapidly disintegrating infrastructure littered with slums, abandoned schools, and fading dreams.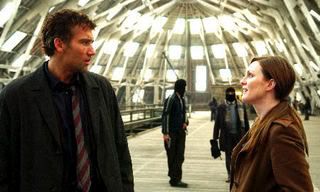 High concepts have a high probability of misfire, but Cuaron has perfected his vision of the future by focusing entirely on the reality rather than the fantasy. In turn, he has delivered a captivating, thrilling tale that transcends its source material and approaches instant classic status.One of Cuaron's key accomplishments is the bravura camerawork throughout the film. He could have settled for standard camera setups with multi-angle coverage and cuts, but instead designed some fascinating one-take scenes that will be studied in film schools for decades to come. One scene finds the protagonists traveling by car until they encounter an angry mob and quickly retreat in reverse gear, which doesn't sound all that special except that the camera appears to be in the car, constantly moving from passenger to passenger to capture their dialogue at the right times as well as all of the action outside of the car. Every seat in the car was occupied, leaving even less room for maneuverability and more room for amazement. It's reminiscent of a similar scene in War of the Worlds, but seemingly more real and thus more impressive.Lenny CampelloApocalypto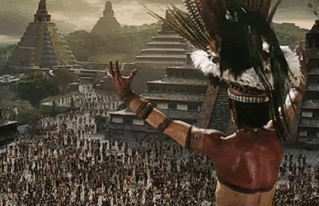 Mel Gibson's Apocalypto is an action film set in the final days of the Mayan Empire. The Mayans, like many other Native American nations, have received (and rightly so) a lot of good press for their spectacular cultural achievements, sculpture, art, building accomplishments, and other good, positive things. But little has been said publicly about the darker side of the Mayas, or the Aztecs, or the Incas, etc. Enter this brutal film by Mel Gibson to change that!Just as he did with Braveheart, Gibson picks a moment in history to tell a story of a man's love for his woman and family and set it in an action-packed environment, full of speed, gore, and spectacular backgrounds.Kudos must be given to Gibson for creating what may be the world's first mainstream movie filmed in Mayan language (Gibson used contemporary Maya people for many of the parts in the movie).This movie has been savaged by the critics, but it is clear to me that most of that writing has really been aimed at Gibson, rather than the film. Yes, there's a lot of violence, but there was also a lot of violence in multi-Oscar winner Braveheart, and yes, it does depict the Mayans as bloodthirsty, human sacrificers - but they were! And it does show the spectacular building accomplishment of the Mayans.And so, in my opinion, a lot of the negative criticism of this film, in violence-happy Hollywood, is unwarranted for the film and more a heavy-handed response to Gibson's spectacular success with The Passion of the Christ, coupled with his despicable behavior when arrested in Los Angeles.If you don't like violent action in films, then avoid this movie. If you want to be entertained by Gibsonian trademarks of magnificent settings, grand scenery, a tight, action-packed plot, a simple story of a young man going Rambo on his tormentors and what should be award-winning sets and costumes (although the film has already received a Golden Globe nomination for Best Foreign Language Film), then go and enjoy a typical Gibson film.Alan DaleFateless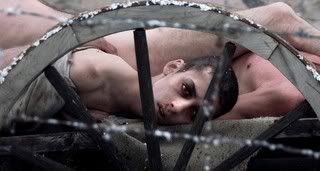 I'm living a joke out of Annie Hall — my boyfriend has said he won't watch any more Nazi or Holocaust movies. And just when they've reached an all-time peak! Oliver Hirschbiegel's monumental anti-epic Downfall was topped this year by Lajos Koltai's Fateless. Koltai, longtime cinematographer for István Szabó, turns a visionary eye on 2002 Nobel Laureate Imre Kertész's adaptation of his 1975 work of fiction, which he based on his incarceration in Auschwitz and Buchenwald in 1944 and 1945. Most Holocaust movies, including Steven Spielberg's Schindler's List, can't forgo the traditional narrative moviemaker's reliance on character to draw the audience into the story. This is a bad fit for the Holocaust, because the Nazis' methods completely detached fate from character. In that respect, history and our narrative traditions parted ways, and Koltai is the first moviemaker to capture this aesthetic difficulty and historic reality.