I am so aware that this issue of mine is such a jingoist thing, and I am also keenly aware that I've written about it before in a different scenario, but the more we become aware of how culturally blind Hollywood is, the more they underscore their cultural stupidity.
Last year I bitched when Jimmy Smits, a superb actor on his own, was chosen to play the lead part in the CBS drama Cane. The article received a lot of comments, most of which took the focus to different points. My historical issue last year was that Jimmy Smits is a great actor, but not what your typical Cuban sugar magnate would have looked liked in the racist Cuban society of the late 1950s and the Cuban-American refugee wave of the early 1960s.
CBS picked Smits, a brilliant actor, I guess based on their perception of what a Cuban looks like (Smits is not of Cuban ancestry — his father, Cornelis Smits, was a Surinamese immigrant from Dutch Guiana, and his mother, Emilina, is Puerto Rican).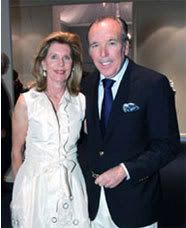 This is what the person that Smits' Cane character was loosely based upon really looks like...
That is him and his also Cuban wife to the left... but because, like a lot of Cubans, he looks too "Anglo" and not enough of what Hollywood (and CBS) want all of us to think that Latinos should all look like, they hired a terrific, Emmy-winning Surinamese actor who fits the sterotypical image of what Hollywood thinks Cubans should look like, to play the lead part.
Latinos are a culturally, racially, and ethnically diverse group of people, and we're not all made from one mold, as Hollywood wants you to think.
So that was then, and here's what has me all spun up in a tempest in my demitasse.